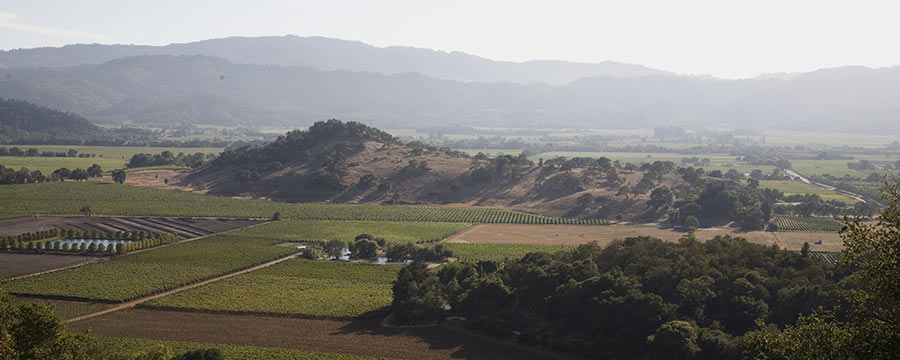 Napa Valley's unique attributes mean distinctiveness in every glass.
At only 30 miles in length and five miles across at its widest point, the Napa Valley is a unique winegrowing region with a complex tapestry of vineyard locations that possess unique, individual personalities through soil and climate.
Powerful Forces
Like the rest of California, Napa Valley has had a very active and eventful geologic history. Over the course of 150 million years, the slow grinding of tectonic plates and robust volcanic activity have created the topography of the Napa Valley we know today. Due to our unique geographic position between the cold Pacific Ocean and the often hot Central Valley, a wide variety of climatic conditions exist within this small, contiguous area that are perfectly suited to producing a great variety of world-class wine grapes.
Mountain Influence
The two mountain ranges of the Napa Valley were created during the formation of the San Andreas fault. The Vaca Range, which forms the valley's eastern boundary, shields us from the scorching heat of the Central Valley while the Mayacamas Mountains separate us on the west from the cooler, marine influences experienced in neighboring Sonoma County. The hills and knolls you see on the valley floor are the product of huge megaslides from the Vaca mountains many years ago and affect weather patterns within those areas.
The Lazy River
Bisecting the valley is the Napa River, which follows the valley's tapered contour. It begins as little more than a creek at its headwaters and grows into a fully navigable river in its southern stretches. The valley's topography changes with its length, from the windswept estuarine flats and gentle hills in the south to the valley's narrow tip at the town of Calistoga, cradled between the sheer walls of the Palisades at the foot of Mount St. Helena to the east and the forested Mayacamas Mountains to the west.