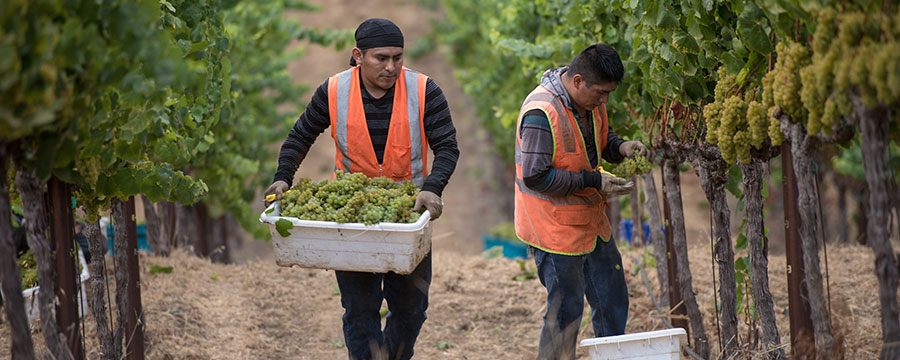 The Napa Valley wine industry is committed to the farmworkers who contribute so greatly to our success.
Farmworker housing
Napa is the only county in the U.S. where growers assess themselves to fund farmworker housing centers that provide lodging, meals, laundry and recreational amenities.
Between 1995 and 1999, industry groups gave more than $250,000 in funding to farmworker housing through voluntary contributions.
In 2002, the Napa Valley Vintners (NVV), Napa Valley Grapegrowers (NVG) and Napa County Farm Bureau supported legislation to enact a self-imposed per acre vineyard assessment which has generated more than $7 million for the local farmworker housing operations. In 2017, vineyard owners voted overwhelmingly to extend the assessment for five more years and raise the cap from $10 to $15 per acre. Everyone who grows grapes in Napa County contributes.
For years, the Napa Valley wine industry has lobbied the state of California to contribute to Napa County's innovative farmworker housing program. In 2017, this finally resulted in two bills signed by Governor Jerry Brown: the first for a one-time $250,000 contribution from the state's current fiscal year budget and the second for an additional commitment of $250,000 per year beginning in 2018.
Annually, the centers provide more than 50,000 overnight stays for farmworkers.
Farmworker compensation
Because of the premium nature of the wine industry in Napa Valley, our farmworkers are compensated at a far higher rate than other ag workers throughout the U.S. and many work year-round. According to Occupational Employment Statistics (OES) from the California Employment Development Department, typical ag worker wages in California range from $15.77 to $26.10 per hour. In Napa County, however, according to the 2022/Q1 2022 OES survey, skilled vineyard worker wages range from $19.13 to $29.09 per hour and Napa County farm laborers have the second-highest median hourly and annual wages in the state, behind the greater Bay Area.
The majority also receive additional benefits, like bonuses, health care and access to 401k programs. For example, in 1972, Napa Valley vintners and growers helped establish the California Grower Foundation to administer fringe benefit programs for field workers. They continue this tradition today, assisting member employers to provide group health and retirement benefits to their employees and families.
Giving to community health and children's education
Through money raised at Auction Napa Valley, the NVV has:
Granted nearly $2 million directly to farmworker housing needs in our community, including funds that helped to build, maintain and operate the three farmworker housing centers.
Given an additional $8 million to affordable workforce housing in Napa Valley, in addition to the funds contributed to migrant worker housing.
Contributed more than $40 million in capital investments, cash and rent reduction offsets to OLE Health.
Given $3.5 million to the Community Health Initiative to ensure every child in Napa County has access to health insurance.
Granted nearly $5 million to ensure every child enters kindergarten ready to learn through our Napa Valley Early Learning Initiative, which is targeted to English-language learners.
Given tens of millions of additional dollars to a wide range of area nonprofits that work with the Latino community.
Affordable workforce housing
There's no question that affordable housing and services for lower wage workers – not just farmworkers, but tasting room staff, restaurant servers, hotel maids, hospitality employees, teachers, nurses, police officers, Napa County employees and more – are significant needs in our community.
This problem is not unique to Napa County – dozens of other communities in the Bay Area and throughout the country are seeking solutions to this complex issue.
Here are some examples of things we are doing right now to help solve the local affordable workforce housing problem:
Worked with Napa County to increase Commercial Impact fees, which doubled the county's Affordable Housing Fund.
Advocating that obstacles and objections be overcome to ensure stalled affordable workforce housing projects are completed.
Actively participating in the Napa Valley Housing Coalition.
The local wine industry remains committed to ensuring the health and wellbeing of all our workers, who provide their skills and services and are so important to the economic prosperity of our community. We are open to working with all our industry partners, relevant nonprofit organizations and local government to help overcome any existing challenges.