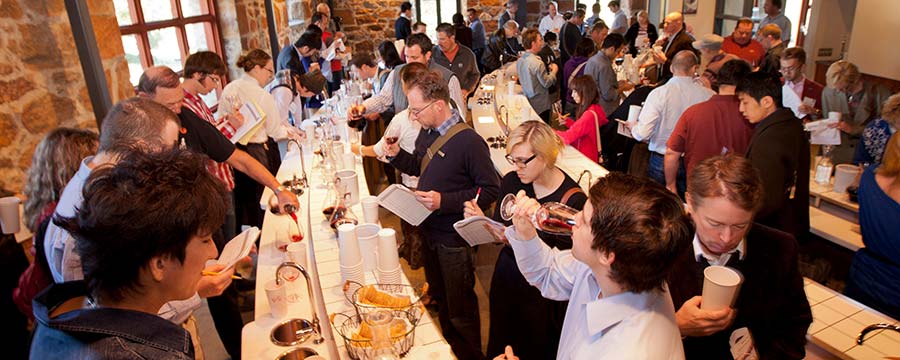 Auction Napa Valley (ANV) was established in 1981 as a means to generate needed funds for nonprofits in Napa County by leveraging the quality reputation of Napa Valley wines and offering them at auction each June. ANV is the first and most celebrated charity wine auction in the world, having given $180 million since its inception. NVV members' generosity has made this the must-attend charity wine event in America, and the vintners and their wines have been the inspiration and backbone for all charity wine auctions across the U.S..
Premiere Napa Valley is a barrel tasting and auction that has become the must-attend trade-only event of the year. Napa Valley's renowned winemakers create unique wines crafted just for Premiere attendees and buyers. A fundraiser for the association's promotion and protection campaigns, Premiere is the consummate gathering of industry professionals, winemakers and winery owners.
Napa Valley Rocks is an appellation education program for on- and off- premise members of the wine trade, led by vintners and NVV wine educators. The program provides easy-to-understand information about Napa Valley, its soils, geology, climate, viticulture and winemaking—and how to recommend Napa Valley wines to consumers with confidence. Available in video or presentation format.
The Symposium for Professional Wine Writers is a three-day intensive held in Napa Valley for wine writers to convene and hone their writing skills and their knowledge of the issues affecting the wine industry. It is hosted in partnership with Meadowood Napa Valley and The Culinary Institute of America at Greystone.
Master Napa Valley is a multi-day intensive for those who have completed the second level certification process to become either a Master of Wine (MW) or Master Sommelier (MS). Candidates explore, in depth, what defines Napa Valley's place in the world of wine: from physical aspects of geology, climate and soils, to its leadership role in social and environmental initiatives to the latest vineyard and winemaking trends.
The Napa Valley Wine Educators Academy offers a multi-day immersion into the unique and varied aspects of Napa Valley, its soils, geography, climate, wines and its leaders during this educate the educator program for those who teach consumers and trade about wine. Co-hosted with The Culinary Institute of America at Greystone.
Each year, we recognize and thank the following restaurants for thinking local when it comes not only to their menu, but their wine list, by ensuring that Napa Valley is well-represented. We encourage you to support these establishments and let them know you appreciate their promotion of local wine producers.
This exciting program invites sommeliers from marquis restaurants to experience the best of what Napa Valley has to offer. Attendees learn about the unique geography, geology and climate that give Napa Valley its distinctive terroir while also meeting the people and learning about the history behind the wine.


Somms & Sliders brings together Napa Valley wines and burger pairings at top fine dining and high-end casual restaurants, steakhouses, wine bars and craft burger chains around New York. At each restaurant, the sommelier will select a Napa Valley wine paired with a gourmet burger recipe that highlights the wine's unique character.

This multi-day immersion program is designed for sommeliers and wine buyers who work in the steakhouse sector who are passionate about wine education and seek to have a more fully rounded look at this unique winegrowing region.

Taste Napa Valley
Taste Napa Valley brings vintners to cities around the globe to share their wines, express their passion about our wine region and to personally interact with wine lovers beyond the Napa Valley. If you'd like to know when Taste Napa Valley is coming to a city near you, please sign up to receive updates from us.