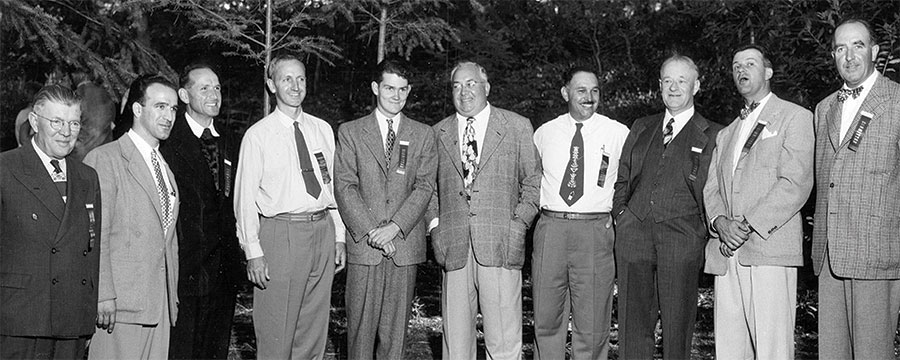 It began as most things do in Napa Valley - over a table replete with good food and good wines.
Over seventy-five years later, that epicurean and social camaraderie has grown into a spirited partnership committed to advancing Napa Valley wines worldwide. Founded in 1944, the Napa Valley Vintners is a voluntary regional trade group with an active membership of 539 wineries, representing a tradition of dedicated vintners and grape growers who work and care for this premier winegrowing region.
In the early 1940s, the fledgling Napa Valley wine industry faced a number of problems, including price controls and a daunting shortage of labor, bottles and rail cars for eastern shipment of wine. In 1943, Louis M. Martini, John Daniel Jr., Charles Forni and Louis Stralla discussed forming an association, a vintners forum, that would allow a regular opportunity to exchange ideas and work as a group to overcome some of these obstacles and to elevate the status of Napa Valley wines. The vintners believed they could solve industry-related problems better collectively than as individuals.
By 1944 a formal agreement of association was drafted and signed by seven vintners: Fernande de Latour of Beaulieu Vineyard, Elmer Salmina of Larkmead, Charles Forni of the Napa Valley Co-op, Robert Mondavi of CK Mondavi and Sons, John Daniel Jr. of Inglenook, Louis M. Martini and Louis Stralla.
As early as 1948 the Napa Valley Vintners welcomed visitors to Napa Valley by sponsoring promotional activities showcasing the wines. For example, 700 Harvard University graduates were hosted by the vintners in 1949 and 2,000 guests from General Electric enjoyed a western-style barbecue with Napa Valley wines at the Napa County Fairgrounds in 1952.
Although the original members of the Napa Valley Vintners often referred to themselves as "an eating and drinking society," they set in motion the hospitality, industry advocacy and marketing activities that have focused worldwide attention on the uniqueness of this small valley as one of the premier winegrowing regions in the world.
"Fifty years ago, few recognized the name Napa Valley in world wine circles," said the late Robert Mondavi a few years ago. "Now the world looks at Napa Valley vintners as leaders in the world wine community." The vintners are community leaders as illustrated by the efforts to establish the Ag Preserve in the late 1960s, and are also committed to supporting the wellbeing of the local community, having given $225 million to local nonprofit organizations since the inception of Auction Napa Valley, the organization's community fundraiser.
Today members of the Napa Valley Vintners focus on preserving Napa Valley as a viticultural and enological treasure; producing the highest quality wines; advocating on issues of interest to the Napa Valley wine industry; and marketing Napa Valley wines in the national and international marketplace. Seven decades later, vintners still meet regularly. Membership has grown tremendously, but the essential camaraderie and partnership remains.