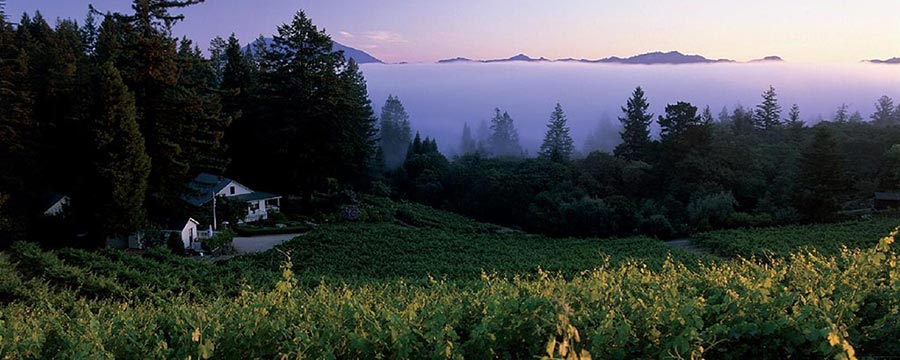 Our ideal climate creates the perfect place to grow wine grapes.
Defined by mountain ranges and influenced by its proximity to the Pacific Ocean, the Napa Valley enjoys a dry Mediterranean climate perfectly suited to the growing of fine wine grapes. Only 2% of the earth's surface is covered by a Mediterranean climate.
The long growing season is marked by sunny, warm and dry days followed by cool evenings, an ideal combination for allowing grapes to ripen slowly and evenly. Within the Napa Valley AVA, the mesoclimates are distinctive and dramatic. The most moderate temperatures are found in the Carneros region, which is cooled by marine breezes that sweep through the Golden Gate and across San Pablo Bay. Farther up the valley, the Pacific Ocean exerts less influence: temperatures are warmer in the summer and cooler in the winter, and rainfall is greater than in the south. Configuration of hills, exposure and elevation all work to create distinct growing conditions within the Napa Valley appellation.
Napa Valley Rocks: Climate
What makes Napa Valley perfect for growing wine grapes? This short video explains why grapevines thrive in this world-famous winegrowing region.