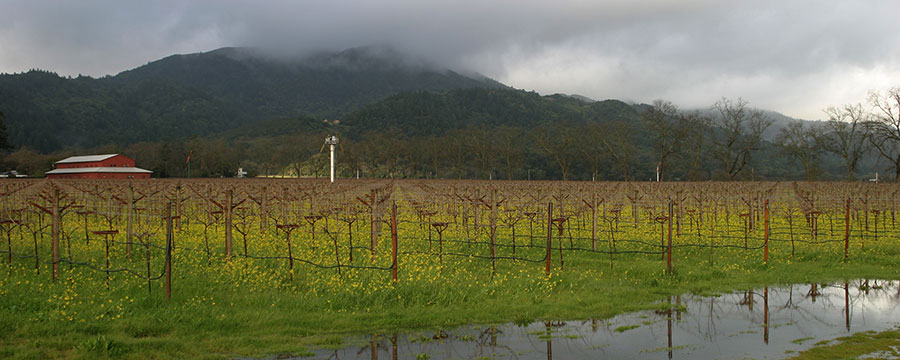 Vintage Charts
The NVV's vintage charts depict key stages of the growing season from January through the middle of September, including the high and low temperatures for each day and rainfall amounts. Tracking these key stages plays an important role in the planning of the season and harvest logistics. For example, many growers compare the date of bloom to growing season data from previous years to determine a timeframe for the first day of harvest.
Vintage Recaps
2022
2022, The Tale of Two Harvests
With climate variability as the new normal, Napa Valley grape growers aim to be resilient and adaptable. Their preparation and experience paid off in 2022 as growers faced triple digit heat over five days in September quickly followed by rain that brought harvest to a sudden halt. Winemakers are calling the vintage "the tale of two harvests," making it one of the more unique vintages in recent history.
The white wine harvest kicked off in early August, followed quickly by red wine varieties. The typical gap between the white and red wine harvest was almost nonexistent, and the frenzied tempo continued until the rains provided winemakers a much needed break. Following the rain, grapes left to hang through October enjoyed mild weather days that allowed winemakers to wait for perfect ripeness.
Winemakers describe 2022 white wines as having perfect acidity and freshness with remarkable flavors and textures, and red wines as excellent structured with deep red colors, luxurious tannins and exquisite fruit-forward aromatics. Winemakers believe the unique weather events that defined the vintage will showcase the full range of flavors that Napa Valley wines are so well known for from crisp and vibrant to dense and powerful.
2021
The Joy is Back
The 2021 vintage will be remembered for low yields with intensely-flavored, small-sized berries and a smooth and uneventful harvest season. The season started off with very little rain, leading to the 2nd year of drought conditions in Napa Valley, Harvest began early with white wine grapes picked on July 30th and red wine grapes beginning on August 31. While concerning in the long term, the drought of 2021 resulted in a more natural load on the vines, requiring less pruning and dropping of fruit. The resulting grapes are packed full of flavor. Winemakers across the valley are excited about the prospects of the 2021s and it is likely the smaller yields per vine and smaller berry size will result in another amazing vintage from Napa Valley.
2020
Despite the Challenges, the 2020 Vintage will not be Absent from the History Book
The 2020 season will be remembered for factors beyond the normal measurements. Here in the valley, it was a warm, dry winter and we didn't start to see rain and cold weather until the end of March. While the mild spring season gave us a great early start, the wineries of Napa Valley worked under extensive safety protocols due to the COVID pandemic. Summer brought very cool mornings and very warm days. This build-up to harvest was interrupted by two wildfires as we turned to the fall; The LNU Complex Fire started on August 17th and the Glass Fire started on September 27. The white wine harvest started in early August, the wines are showing excellent development in cellars, reflecting the fine vintage year. While the red wine harvest will be smaller than usual, most wineries were able to move forward with red wine vinification. While the 2020 Napa Valley harvest proved to be one of the most challenging in history, our winemakers remain not only optimistic but committed to bottling wines of the highest quality. The story of this vintage will continue to unfold over the years to come.
2019
A long, warm summer and mild finish to the season
The beginning of the 2019 growing season was defined by copious rainfall and late soil moisture. The long, warm summer saw very few extreme heat events, with foggy mornings setting the stage for vibrant and expressive wines. The long, relatively mild finish to the season, not without its moments of unpredictability, helped to preserve freshness and finesse in the fruit with abundant hang time teasing out great color, structure and soft tannins. Volume is looking to be about average to a little less than average. All in all, exceptional fruit with bright acidity and ample texture promises an amazing vintage.
2018
Seamless season of heavenly hangtime and phenomenal phenolic development
February saw abundant rains, followed by lots of filtered light in spring and early summer. Both bud break and flowering occurred a bit late, but under ideal weather conditions, creating plentiful and even fruit set. Summer brought generous sun during the day and cooler marine influences, virtually uninterrupted by major heat spikes. The relatively mild summer followed by extended fall sunshine and moderate heat created near-ideal conditions for winemakers to allow their fruit to accumulate flavor complexity with gradual increases in sugar levels. Volume is looking great, up 20-30% increase over average crop quantity.
2017
Mother Nature throws curve balls; winemakers catch them
The year began with abundant rainfall, followed by a mild Spring resulting in extended flowering with little shatter. A Labor Day weekend heatwave kicked harvest into high gear, then cool weather allowed sugar levels to return to normal. By October 8 nearly 90 percent of the 2017 grape tonnage was in when warm, fierce winds fueled an unprecedented firestorm. Napa Valley's winemakers remain committed to upholding the region's reputation for making some of the world's finest wines and early articles about the 2017 vintage describe the wines with words such as "finesse," "great complexity of flavor" and "elegant."
2016
A near-perfect growing season
The near-perfect 2016 growing season started early, saw ideal weather conditions throughout and wrapped up as the valley's first significant fall rainstorm arrived on October 14. Thanks to a relatively steady and mild July and August and then a series of warm days at the end of the growing season, vineyards were able to progress to perfect ripeness. Wines from the 2016 vintage are now quietly developing in cellars throughout Napa Valley and vintners are pinching themselves and smiling for the gift it appears Mother Nature has given them: a fifth consecutive vintage of stellar quality Napa Valley wines.
2015
Vintage will be remembered for high quality, but low yields
The 2015 growing season in Napa Valley started out with unseasonably warm temperatures in the late winter and early spring. This resulted in an early bud break and bloom. Colder temperatures in May (during the peak of bloom) caused uneven fruit set which ultimately resulted in much smaller crop in 2015, compared to both average yields and also the three abundant years that preceded it. As a result, winemakers worked hand-in-hand with vineyard crews and also employed new technologies, like optical sorting, to ensure they picked and crushed only the best quality grapes. The harvest was one of the earliest on record in Napa Valley, beginning on July 22 with the picking of grapes for sparkling wine, and concluding for most all vintners and growers in the valley by mid-October. While ongoing drought was of great concern to farmers around California, Napa Valley received 75% of normal rainfall for the water year, bringing far fewer water concerns for Napa Valley's vintners. Perhaps the most notable natural occurrence of the year was the devastating Valley Fire that broke out in Lake County to the north in mid-September. Although the fire was tragic for the Lake County residents who lost their lives and their homes, prevailing winds blew the fire's smoke away from Napa Valley. At the time of harvest, there were no reports of smoke taint affecting Napa Valley wines.
Top Five Questions Regarding the 2015 Vintage
2014
Early harvest yields high quality wine grape crop
In spite of the drought and the South Napa earthquake, vintners are using words like "quality," "depth of flavor" and "excellent" to describe their expectations for the 2014 vintage in Napa Valley. Many are also noting "perfect weather," "abundant crop" and "good fortune" among the blessings they are counting in a season where Mother Nature threw a rockin' curveball.
Harvest started and ended earlier than usual. The first grapes for sparkling wine picked on July 30 and nearly all harvest activity was completed by the third week in October – for many, a full two weeks ahead of the normal harvest schedule.
Read the full report and FAQs about the 2014 harvest.
2013
Optimal Ripening Brings in "Epic" Fruit
"Early, even and excellent" are three words being used to describe this year's growing season and the Napa Valley wine grapes that have come from it, reflecting the consistent quality for which this world famous wine region is known.
A warm, dry spring brought early bud break, helped with canopy vigor and berry size and created ideal conditions for flowering and fruit set under sunny skies. With the exception of one heat spike in late June/early July, temperatures were consistently in the zone for optimal vine activity, resulting in notably healthy vines as fruit went through veraison and started ripening.
2012
A Classic Vintage for Napa Valley from Start to Finish
"Classic" and "perfect" are just two accolades being bestowed upon the 2012 Napa Valley growing season and harvest. Textbook conditions saw near-ideal spring bud break, steady flowering, even fruit set, and a lengthy stretch of warm days and cool and often foggy nights during the long summer months. Late and light rains held off until Napa Valley's treasured wine grapes found optimal ripeness, bringing exceptional quality to the crush pad and into the cellar.
The abundance of perfectly ripe grapes--with a smooth balance of acids and sugars--provided a broad sweep of opportunities for winemakers to cull only the most select fruit. The vineyards of Napa Valley are intentionally farmed at lower yields bringing only the very best grape to harvest. Growers here, year-in and year-out, bring an average of 4 tons per acre to crush overall, which is consistently half the California state-wide average. This is one of the many reasons that Napa Valley wines are so consistent vintage-to-vintage and acclaimed for their high quality in the bottle. This vintage, while as much as 30% higher than the past two years' smaller crops, is on par with near-normal quantity.
Stay tuned as the fruit, now juice on its careful and intricate way toward wine, develops in the cellar. We can't wait to see how the flavors of the 2012 Napa Valley harvest reveal themselves.
2011
Challenging year in the vineyard reaps rewards in the cellar
What began with a wet winter and spring continued with rainfall into mid-June that delayed bloom and disrupted fruit set resulting in shatter in parts of the region set the stage for a long, cooler-than-average growing season with a later-than-average harvest beset with autumn rain storms. The precipitation measuring season ending on June 30 found the region more than a third above normal in rainfall. While this is good news for water resources, the cloud cover and cool temperatures delayed vine development by several weeks at the onset of the growing season.
This timetable continued through the somewhat cool summer season where harvest for the first varieties for sparkling wines found the latest harvest start in anyone's memory, beginning August 29. Few high heat events occurred at any point this year, but growers managed more open vine canopies to ensure sunlight, warmth and good air circulation around the grape clusters. The shatter resulting from the rain events in June was variable by vineyard location hitting some locations harder with projected crop diminished by more than 30% while leaving other sites nearly untouched with near-normal crop.
After a consistently cool summer season, significant mid-October rain pushed the vintage even later. But growers were rewarded with weeks of fantastic weather, a prolonged Indian summer that provided needed ripening time.
Most waited through the first two rains of this year to pick Chardonnay in October, and that patience paid off. Yields were generally consistent with 2010 — down by 10%. Quality looks very good with lower alcohols, good structure and length on the palate.
Most agreed that Merlot was a success story for 2011. While it can tended to be on the greener side, the cool weather helped the vines work more efficiently and produced a beautiful vintage of this varietal with black cherry and plum, not any pruney character.
Mold, rot, and botrytis were challenges to the grapes that were not harvested, and had a major impact on the quantity of the harvest, but not the quality. The commitment to quality runs so deep and strong in this valley that systems for effective sorting were already set-up, both in the field and at the wineries. While quantity was low, the fruit this year will make for well-balanced wines with good intensity, structure and texture with a brightness of flavor.
2010
Mother Nature throws wild pitches
In some years, grape growers feel like baseball players in the batting cage, swinging at whatever Mother Nature throws their way. In 2010, rainfall returned after three dry years, pushing bud break, flowering and fruit-set back. Summer's cooler temperatures resulted in a later-than-average veraison. Then a two-day heat spike coincided with harvest's first day on August 24. With canopies thinned to adjust for the cooler season, grapes at various sites experienced some sunburn. Although the season's swings resulted in a late and shortened harvest with lower yields, vintners were excited about what they were tasting from the vineyards—concentrated flavors that will hit elegant, structured wines out of the park.
2009
A breath of frost-free relief
From 30 days of intense frost in spring 2008 to fewer than five in 2009, this vintage was much less eventful for growers who were able to sleep nights not worrying about the threat of frost—or the lack of water to combat it. Late spring rains and June's warm spell helped curtail excessive canopy development. Instead of a typical growing season's 14 days of 100°+ temperatures, 2009 counted four or five overall, again reducing the demand for water.
Though rainfall was about two-thirds of normal for the third year in a row, the timing of it was on the vines' side. Couple that with the lack of frost and the mild, relatively cool growing season, Mother Nature gave vines and grapes the best scenario possible.
2008
Crazy weather creates perfect storm in vineyards
The New Year began with intense storms which quickly waned; for the second year in a row, Napa Valley received about 60% of normal rainfall. One of the driest springs on record prompted vines to push out early, providing the "perfect storm" for frigid, dry air to create the deepest and longest frost period in decades, threatening the budding vines.
Spring daytime temps were perfect, yet the frost persisted. Then, within the same week that many had been irrigating for frost protection, vineyards had to be irrigated to forestall a multi-day heat spike just when vines were beginning to flower, a time when fruit and vine development is particularly susceptible to extremes. This resulted in fewer clusters with smaller berries.
Harvest began in mid-August, then a Labor Day heat spell ratcheted everyone into high gear as several varieties ripened simultaneously. Cellar crews worked around the clock to crush the fruit that was coming in all at once--Sauvignon Blanc and Merlot virtually one atop the other.
Suddenly, temps dropped to well below normal, allowing red varieties to receive optimal hang time, excellent ripening and balanced structure.
2007
A vintage of contrasts
The 2007 vintage contrasted with previous vintages and with early predictions—yet grape growers brilliantly adapted to changing conditions. The year began dry with a warmer-than-normal winter that continued into spring, resulting in earlier budding, bloom and set. A mild-to-cool summer finished with a Labor Day heat spike that added the boost of sugar development that fruit needed to complement the excellent acid structure developed in the white varieties.
Harvest started in early to mid-August. Unseasonably cool weather and nearly an inch of rain in the second week of October did not affect the crops as Indian Summer returned with warm, clear days and vineyard crews sprang into action to finish harvest for a vintage of exceptional quality.
2006
Rain, rain go away
The 2006 harvest finished in early November and will go down as a "grower's year" as Napa Valley faced a variety of challenges from New Year flooding to spring's continued wet weather that delayed budbreak. By early June, the sun came out and vines began to bloom and set fruit. In mid-July a record-setting 10-day heat wave struck, but canopies had not yet been thinned and young clusters were shaded from the hot sun. August's cooler weather continued throughout harvest, allowing for moderately paced and deliberate ripening and a long harvest period. Rain came in the first week of October, but the white varieties were in and the black varieties were not damaged.
2005
Indian summer creates a signature vintage
2005's winter rains took pause for a dry, mild March, then began again with record-setting precipitation late into the growing season, delaying bloom and set. The summer months were cool and pleasant with few heat spikes. Fog and cool temperatures were a concern heading into September as sugar levels were yet to rise in all varieties. Warm, nearly perfect conditions arrived with an Indian Summer making for a later-than-average harvest, providing winemakers with fruit with extended hang and ultimately realizing excellent sugar development and balanced acids with a larger-than-average crop of what could be a signature vintage from Napa Valley.
2004
Early bud break led to one of the earliest harvests in memory
In 2004, bud break occurred earlier than many vintners could remember, and the trend carried forward throughout the growing season. Heat spikes happened in June and at scattered intervals throughout the summer season. Grapes completed veraison early and ripeness with well-developed sugars in all varieties was realized early. Growers held on as acid balance eventually caught up. Temperatures were steady into one of the earliest harvests in Napa Valley. Grape quality was very good with a crop that was smaller than average.
2003
Unpredictable … that's what you are
The unpredictable nature of the 2003 growing season began with a series of early heat spikes in March, followed by the wettest April on record. A long cool summer allowed the fruit flavors to evolve beautifully ahead of the sugar accumulation. Heat spikes in September helped move the harvest forward after many felt it would be a late year.
2002
Overall balance
The 2002 vintage will be remembered as a long, mostly mild growing season, followed by warm weather near the end of September that pushed the ripening level upward, concentrated fruit flavors and condensed the harvest. An early April frost and May rains gave way to a mild summer with ideal growing conditions—warm days and cool, even cold, nights. Overall, the grape crop was balanced, showing excellent intense colors and flavor concentrations. While per-acre tonnage was generally lower than average, the overall yield of the entire Napa Valley appellation was average to above average.
2001
A roller coaster ride
An early spring, a surprise frost and early heat spikes led to a bit of a roller coaster ride for the 2001 crop. The up-and-down temperatures began with a cold and harsh March, with two deceptive heat spikes into the 80s, which coaxed the vines into a slightly earlier bloom. The hottest May on record and the third hottest June (in total degree days) led to harvest around two to three weeks ahead of normal. August cooled to near perfect temperatures with cool nights, allowing the grapes to settle and extend the all-important hang time on the vine, producing remarkably clean fruit.
2000
The 21st century in the Napa Valley began with a virtually picture perfect growing season. The almost uneventful spring and summer weather pattern, every grower's dream, produced fruit of exceptional quality. A cool, even growing season throughout, except for a three-day heat stretch of unusually high temperatures in June and ominous rain clouds in late August, led to a compact harvesting period that finished in mid-October. Yields were were average on a per acre basis, however, with numerous post-phylloxera vineyards coming on line, the year's overall tonnage was up noticeably.
1999
A long, cool spring gave way to a mild summer. With only one heat spike recorded in the first part of July, the 1999 vintage ripened under conditions that allowed a long hang-time that resulted in fruit of concentrated varietal flavors with a strong backbone of acid. Harvest got underway following a weekend of intense summer heat late in September. October proved to be a very active month in vineyards and winery crush pads as red and white grapes reached maturity simultaneously. Napa Valley received only a trace of rain from April through October, leading to extremely clean fruit arriving at the wineries.
1998
An abnormally wet El Niño spring and late summer caused a poor set for the 1998 vintage crop. During the growing season, clusters also were subjected to uneven ripening and threatened with sunburn, sending growers into the vineyard, performing more hand manipulation of the vines and reducing crops. With a later than usual harvest, growers faced the possibility of rains, but nature cooperated with a warm and sunny early autumn. Picking started in late September, went into full swing in October and reached completion in early November. The clusters, while small and low in weight, produced elegant fruit with definite personality and complexity. The juice to skin ratio was very low, which translates into extracted wines with concentrated fruit flavors.
1997
The season started when the warm, dry soils at the end of February triggered budbreak a full month early. Bloom followed in early May. As the fruit set, growers recognized that the outstanding weather of the previous year would result in an exceptional crop. A temperate summer with moderate, steady temperatures allowed the fruit to reach optimal maturity with good hang time for the full development of character and flavors. 1997 was a vintage of great quality and quantity — 144,000 tons compared to the 10-year-average for the region of 121,000 tons.
1996
An unseasonably warm winter with substantial rainfall launched the 1996 growing season with an early bud break. A cool spring was followed by intermittent rain during the May bloom period, causing shatter in many vineyards and reducing the potential crop size. A relatively warm summer with several heat spells speeded veraison and ripening, while a cooling trend in September allowed grape flavors to catch up with sugars, bringing the fruit into excellent balance. Smaller clusters and a light crop resulted in deeply flavored grapes, with the overall harvest down by 20-30%.
1995
A year of weather extremes marked the 1995 vintage, which saw winter floods, spring rains and a June hailstorm. The dramatic weather events got the growing season off to a late start, and although summer heat pushed grapes to maturity, harvest was late and yields were down. Moderate Indian Summer temperatures permitted extended hang time for red varieties, important to the development of rich flavors and deep color. Overall, vintners characterized the year as late, light and luscious.
1994
A long, cool spring followed by a cool summer produced slightly lower grape yields of richly concentrated fruit. The effects of low winter rainfall were mitigated by the combination of cool daytime temperatures and evening marine fog. The moderate temperatures were optimum for grape quality. A two-week period of hot weather at the beginning of August created some uneven coloration during veraison, and growers compensated by thinning fruit to allow only the best grapes to reach maturation.
1993
An uneventful, warm spring concluded with unexpected rain during the bloom period in May, resulting in lower berry set and ultimate crop reduction of 20% to 30% at harvest. Cool growing season temperatures were broken with intermittent heat spells in August and September, resulting in several selective harvests, rather than one extended crush. Grape quality was excellent, with intense flavors off the vine, although some varieties experienced sunburn and required selective picking at harvest.
1992
Early budbreak, followed by prolonged bloom induced by cool weather, caused uneven set, requiring cluster pruning in some varieties. June brought unseasonable rain, but worries were erased by the warm, dry weather which followed and continued through the summer. High temperatures brought a somewhat frenzied start to harvest in August, when it seemed all varieties would ripen at once, but a return to normally cool nights and foggy mornings allowed harvest to proceed at a more relaxed pace. Both quality and quantity were good for all varietals in all growing areas.
1991
Vineyards entered the growing season in a state of dormancy, induced by a December freeze which saw temperatures plummet into the teens. Heavy March rainfall prior to budbreak, followed by ideal weather during bloom, resulted in an abundant set of excellent fruit. Thinning of the resultant large crop was important and widespread. Cool to moderate temperatures, broken by a brief heat spike in early July, extended the growing season — ideal for concentrating fruit flavors and maintaining desirable high acidity. All varietals were intensely colored and rich in flavor at harvest.
1990
Soaking spring rains during bloom reduced the size of the crop somewhat, but the long, warm summer that followed allowed grapes to ripen uniformly and achieve near-perfect fruit maturity, acid levels and sugar content. Mild weather during harvest allowed picking to proceed at a normal pace and late rains came too late in the season to do much damage. With both red and white varietals showing excellent balance, the vintage was judged overall to be one of higher quality and slightly lower quantity.