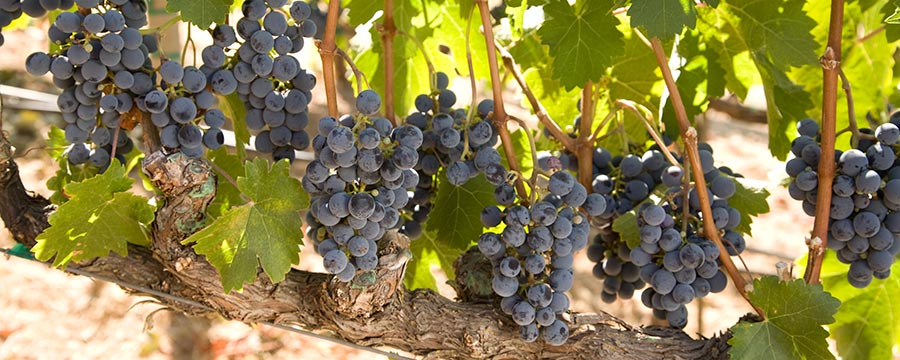 Although Cabernet Sauvignon and Chardonnay are the most widely planted, the Napa Valley holds many surprises for wine lovers looking for varieties off the beaten path. From Albarino to Zinfandel, more than three dozen different wine grape varieties flourish in the Napa Valley. Below is a description of those that are the most widely planted:
Cabernet Sauvignon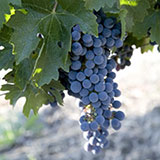 Cabernet Sauvignon is the acknowledged king of red grapes in Napa Valley, accounting for 40% of our total production and 55% of our crop value. This vine is grown throughout Napa Valley and achieves a variety of expression depending on its vineyard site. Its flavors display a wide variety of black fruits, including currant, cherry and plum, and often show notes of spice from oak aging.
On the palate these wines can be dense and powerful in youth but age gracefully. When young they are best matched with robust red meat dishes such as game and braised lamb, while older Cabs are superb accompaniments to simply prepared roasts and steaks and aged cheeses.
Chardonnay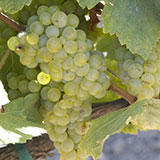 Chardonnay is the second most planted grape variety in Napa Valley, and grows with particular success in the calcium-rich soils and cool climate of the Los Carneros AVA, where it can ripen slowly.
Chardonnay has long been called the winemaker's grape, as few wines exhibit the flavors created by winemaking practices as profoundly as this Burgundian grape variety. Barrel fermentation, lees stirring and malolactic fermentation are the main winery techniques used to create complex aromas and flavors in this wine. As a result, Napa Valley Chardonnay can range in style from fresh, crisp and lively to rich, round and buttery. This wide range of styles can accompany a wide variety of dishes, from simply prepared seafood to most pork and poultry dishes.
Merlot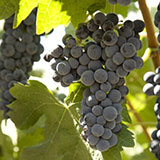 Merlot has been a fixture in the Napa Valley since the early 1970s, where, as in Bordeaux, it has been used as a blending partner to add body and soft fruit to the more structured and tannic Cabernet Sauvignon.
Since these early days, Merlot has come into its own as a varietal wine. Its lovely aromas of ripe cherry and rich earthiness, a soft texture and a smooth finish have appealed to a new generation of red wine drinkers. Given the diversity of vineyard sites and winemaking practices in Napa Valley, Merlot has shown itself capable of producing both lighter and full-bodied, richly textured wines.
Pair Merlot with food much in the same way as you would Cabernet Sauvignon, although its lighter body and tannins make it a versatile partner to a wide range of dishes.
Pinot Noir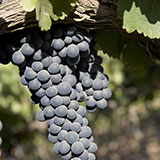 The earthy, ethereal aromas and silky texture of Pinot Noir have beguiled wine connoisseurs for centuries. Yet there are few areas on earth that can coax the magic out of this thin-skinned, fickle grape variety that is hard to grow and challenging to handle in the winery. Coastal California possesses several areas that produce great Pinot Noir, and Napa Valley's Los Carneros was one of the first to recognize its potential.
A thin-skinned grape with less pigmentation than most red varieties, most Pinot goes through a cool maceration period before fermentation begins (called a cold soak) to extract additional color. One of the hallmark qualities of Pinot Noir is its bright acidity, which makes it a versatile partner with food. It is one of the few red wines that pairs well with seafood (think salmon, tuna and bouillabaisse), a wide variety of cheese and is absolutely perfect with game birds and grilled lamb chops.
Sauvignon Blanc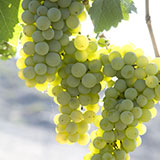 The intense flavor profile of Sauvignon Blanc grabs your attention. Herbaceous, grassy notes and vibrant acidity are hallmark qualities of this grape, and it is capable of showing a wide variety of fruit character.
Most Sauvignon Blanc is fermented in neutral vessels, such as stainless steel and concrete eggs, to allow its distinctive varietal character to shine through. However, some Sauvignon Blanc is fermented and aged in oak, creating more layered flavors and texture in the finished wine, and is often labeled Fumé Blanc.
Fresh and bright and perfect for warm weather, Sauvignon Blanc goes great with light summer fare and salads and is wonderful with shellfish and goat cheese.
Zinfandel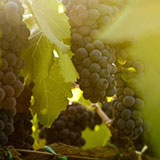 An exceedingly versatile grape variety, Zinfandel was the mainstay of 19th century winemaking in California. Originally crafted into the dry, complex style of red wine we know today, this grape truly burst onto the American wine scene in its slightly sweet, rosé rendition, White Zinfandel.
Old vines in Napa Valley are capable of producing rich, heady, jammy wines with notes of spice and black pepper. Zinfandel is also made in lighter, more food-friendly renditions and is often used as the base for fortified wines. The bold, spicy character of Zinfandel makes it a perfect partner with barbeque.
Petit Verdot & Malbec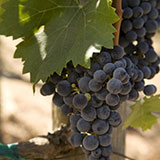 Petit Verdot and Malbec are almost exclusively used in classic Bordeaux blends in Napa Valley, contributing tannin, deep color and spicy complexity to the final wine. They are occasionally bottled as varietal wines here, as our Mediterranean climate allows these grapes to ripen fully.
Cabernet Franc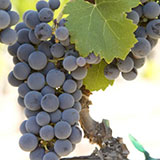 Cabernet Franc has long contributed finesse and a peppery perfume to Bordeaux-style blends around the world. One of the genetic parents of Cabernet Sauvignon (along with Sauvignon Blanc), it produces light-bodied, soft red wines on its own in France's Loire Valley. In Napa Valley, however, Cabernet Franc can be every bit as big and bold as Cabernet Sauvignon.
Syrah / Shiraz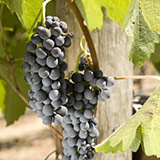 Syrah (or Shiraz) is grown throughout the world and produces powerful red wines with spicy notes and great aging potential. A wide range of aromas and flavors can be coaxed from this grape depending on the climate and soils in which it is grown. Syrah from cooler climates tends towards red berry fruit and earthy, gamey notes, while warmer sites that can ripen the grapes more fully tend to produce jammy, dark fruited wines with a strong spice character.
Depending on its style, Syrah is a great partner for most grilled meats and game.
Petite Sirah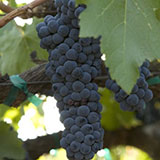 Long thought to be a variant of Syrah with smaller, more petite berries, Petite Sirah was identified as the grape variety Durif through DNA testing. The small, thick-skinned berries create a high skin to juice ratio, producing dense, inky, extracted wines with chewy tannins. When aged in new oak barrels and given a little bottle age, the wine can develop great complexity and notes of melted dark chocolate.
Pinot Gris / Pinot Grigio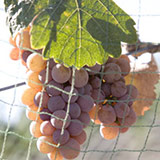 Pinot Gris/Grigio is a variant of Pinot Noir, and can have a grayish-blue color to its fruit, accounting for its name (Gris/Grigio meaning gray in French/Italian). Wines from this grape can be light to medium bodied with a yellow to copper-pink color and aromas of citrus, pear, apple, melon with some light green notes. In most of Italy, Pinot Grigio is made in a light, citrusy style, while in Alsace, Oregon and Napa Valley, richer, more full-bodied wines are produced.