Napa Valley Vintners Congratulates Nine Newly Certified Napa Green Wineries
Winery association striving for every member to be Napa Green by 2020
5/19/2015 - St. Helena, CA – The Napa Valley Vintners (NVV) nonprofit association congratulates nine local wineries for their achievement in becoming certified Napa Green. The Napa County Board of Supervisors made the announcement at its meeting earlier today in Napa.

Napa Green is a rigorous, third-party certified environmental program that helps wineries reduce their water and energy use, waste and overall carbon footprint. It was developed in 2008 as a partnership between the NVV, Napa County Department of Environmental Management and the Association of Bay Area Governments.

"Napa Green helps wineries to demonstrate their care for the environment by going beyond 'business as usual,'" said Napa County Supervisor Mark Luce, who made the proclamation recognizing the nine wineries. "There's never been a more critical time for local businesses to focus on water, waste and carbon reductions and Napa Green assists local wineries in making these important changes. Furthermore, wineries must show continuous improvement and reductions every three years to get recertified in the program. It's not just 'one and done.'"

Earlier this year, NVV announced its goal that all eligible members will be in the Napa Green Certified Winery or Land programs by the end of 2020. The Napa Green Land program is also third-party certified and helps land owners to implement best management practices that protect the Napa River watershed and local endangered species and riparian habitats. More than 65,000 acres of Napa County land have been certified or are pending certification in the program, including more than one-third of all local vineyard land.

"We all want to be good stewards of our environment," commented David R. Duncan, chair of the NVV Board of Directors and president and CEO of Silver Oak and Twomey Cellars. "We're very proud of our wine community's commitment for every NVV member to be in the Napa Green program by 2020. Today's confirmation of nine more certified wineries brings us one step closer to reaching this goal."

The wineries that were recognized today by the Board of Supervisors are: Cliff Lede Vineyards, Domaine Carneros, Frank Family Vineyards, Honig Vineyard & Winery, Hunnicutt Wines, Markham Vineyards, Sutter Home Winery Inc., Young Inglewood Vineyards and ZD Wines.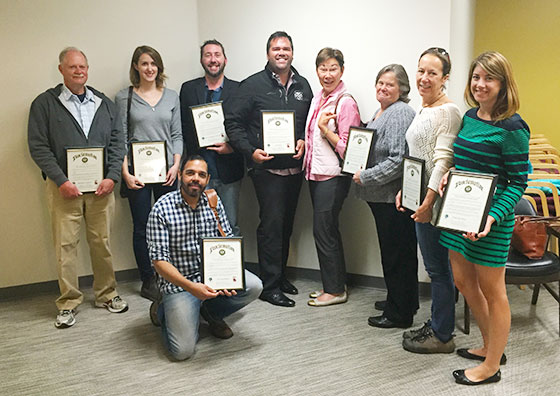 About Napa Green
Napa Green and the Napa Valley's landmark conservation regulations are the most stringent and comprehensive in the wine industry. Focused on environmentally sound, sustainable practices, Napa Green is a voluntary program that is third-party, independently certified and meets and exceeds 20 local, state and federal land-use or production best practices. Napa Valley wineries and growers participate in farm-specific plans tailored to protect and enhance the ecological quality of the Napa Valley, or in production facility programs that reduce energy, waste and water use for an overall goal of resource conservation. Learn more at napagreen.org.

About the Napa Valley Vintners
The Napa Valley Vintners nonprofit trade association has been cultivating excellence since 1944 by inspiring its more than 500 members to consistently produce wines of the highest quality, to provide
Contact: Patsy McGaughy, Communications Director 707.968.4207 pmcgaughy@napavintners.com