Napa Valley Vintners Announces 2015 Wine List Award Winners
Program recognizes restaurants with outstanding selections of Napa Valley wine
3/17/2015 - St. Helena, CA – The Napa Valley Vintners (NVV) nonprofit trade association announced today the recipients of its 2015 Wine List Awards at its quarterly membership meeting. More than 70 local restaurants, from Napa to Calistoga, were recognized for their emphasis on serving local wines.

Today's meeting also featured presentations by Jot Condie, president and CEO of the California Restaurant Association, and local restaurateur Greg Cole on trends in the dining industry.

"Diners are more curious than ever about the origin of the food they eat and the beverages they drink at restaurants," commented Condie. "There is also a very strong consumer interest in locally-sourced products. A recognition program like this helps diners easily identify restaurants that share their belief in the 'farm to fork/vineyard to glass' philosophy."

The NVV started its Wine List Awards program during the economic recession as a way to help bolster business and to emphasize the importance of eating and drinking locally-sourced products. To be recognized, each award winner's wine list must feature 50 percent or 50 selections of Napa Valley wine.

"We consider members of the local restaurant community to be our partners," said Linda Reiff, president and CEO of the NVV. "Napa Valley is renowned for having some of the best restaurants in the world and we're honored to recognize those that also feature some of the world's finest wines – especially those made right here at home by their vintner neighbors."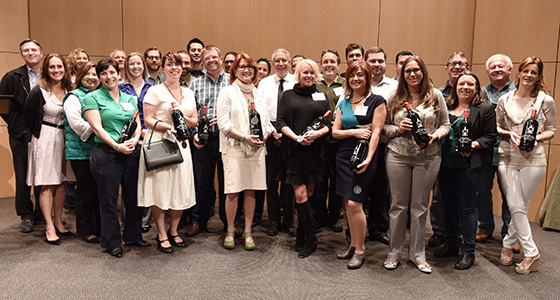 (download high-res photo)

Each Napa Valley Wine List Award-winning restaurant receives a three-liter etched bottle to display at their business and is also promoted online and in other NVV marketing materials. Diners can view the list of award winners at napavintners.com and restaurants interested in learning more about being part of the program should contact the NVV at 707.963.3388.

About the Napa Valley Vintners
The Napa Valley Vintners nonprofit trade association has been cultivating excellence since 1944 by inspiring its more than 500 members to consistently produce wines of the highest quality, to provide environmental leadership and to care for the extraordinary place they call home. Learn more at napavintners.com.



Contact: Cate Conniff, Communications Manager 707.968.4229 cconniff@napavintners.com