New Napa Valley Online Winery Map and Trip Planner Now Available
Napa Valley Vintners' web-based feature makes it easy to click, plan and go
2/10/2015 - St. Helena, CA - The Napa Valley Vintners (NVV) trade association announced today the launch of new and comprehensive tools for planning Napa Valley winery visits. Using cutting-edge, online mapping technology, the Napa Valley Winery Map and Trip Planner locates wineries, provides directions and with the click of a mouse, creates itineraries which can be sent to a mobile device for on-the-go access.

Users of the new Napa Valley Winery Map and Trip Planner can browse hundreds of detailed winery listings using helpful search and filter tools to create custom itineraries and map out the best, most efficient routes for their visits. While visitors are in Napa Valley, they can use the map and trip planner on their mobile device to directly discover nearby wineries or tasting rooms clustered in an area they are planning to visit.

One key search tool is for determining if a particular winery is open to the public with or without an appointment, or if the winery offers public tours. Other filters include features like wineries with art displays, unique architecture, historic buildings, gardens or wine caves. Users can discover if a winery is Napa Green, family and/or dog friendly or one of the nearly 500 family-owned wineries in Napa Valley. Users can also search by a particular wine variety or city areas within Napa Valley.

"This map is phenomenal," exclaimed Sheri Thomas, director of sales and marketing for The Meritage Resort and Spa in Napa, CA. "I was able to quickly plan an itinerary based on my likes and read about the winery, then send a text to my phone and an email to my guest. This will be an exceptional tool for visitors, concierges and even locals wanting to assist a friend with the planning of their trip to Napa Valley."

The new Napa Valley Winery Map and Trip Planner was custom-designed for the NVV by Axis Maps using specialized cartography to create a next-generation, web-based tool especially helpful for navigating Napa Valley's beautiful and diverse terrain.

The Napa Valley Winery Map and Trip Planner, a listing of upcoming winery events and up-to-date information on the Napa Valley appellation and its wines can be found at napavintners.com/wineries.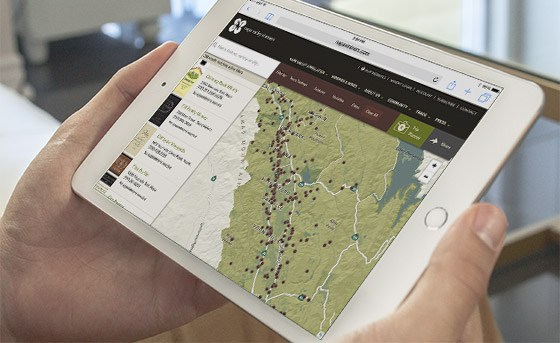 About the Napa Valley Vintners
The Napa Valley Vintners nonprofit trade association has been cultivating excellence since 1944 by inspiring its more than 500 members to consistently produce wines of the highest quality, to provide environmental leadership and to care for the extraordinary place they call home. Learn more at napavintners.com.


Contact: Cate Conniff, Communications Manager 707.968.4229 cconniff@napavintners.com