Napa Valley Vintners Announces $5.7 Million from Auction Napa Valley Proceeds for Community Health Organizations
1/28/2015 - St. Helena, CA - The Napa Valley Vintners (NVV) wine trade association announced today $5.7 million from Auction Napa Valley proceeds to 18 nonprofits under the community health umbrella. The organizations receiving funding provide services in the areas of healthcare, emotional health, family support services and senior support services. The NVV will make a second announcement related to giving in the children's education category in March.

According to a report released last year, NVV funding through its Auction Napa Valley proceeds helps more than 90,000 clients of Napa County nonprofits which make it possible for every child in the county to have access to affordable health insurance and one in six local residents to receive their primary healthcare through Clinic Ole. Auction giving to the community since 1981 now totals more than $145 million.

"The inter-connected, comprehensive resources made possible by the Napa Valley Vintners help create a stronger, healthier community for all of us," notes Howard Himes, Director of Health and Human Services for Napa County. "Through its thoughtful, strategic process of grant giving, the Napa Valley Vintners has created a model for how one community can come together to form a firm foundation of neighbors helping neighbors."

To share the story of Auction Napa Valley giving and its impact on individuals and families, the NVV developed a new section of its website to visually express the work of each nonprofit organization, including individual client success stories.

"We are grateful to our bidders, vintners and community volunteers who make it possible for the NVV to contribute to many organizations doing good work in our community," said Linda Reiff, president and CEO of the Napa Valley Vintners. "This new web presence allows us to share inspiring stories, along with the breadth and depth of our giving, in a visually compelling way."

In addition to funding key local community health and children's education nonprofits through its Community Support Fund, the NVV has also pledged to several strategic initiatives and capital projects in the past year, including:

• $2.5 million toward completion of the Napa Valley Vine Trail;
• $2 million for construction of a new Boys & Girls Club facility and community center in American Canyon;
• $2 million for construction for a new Boys & Girls Club facility in Calistoga;
• An additional $1 million for the Napa Valley Early Learning Initiative ensuring that every child in Napa County enters kindergarten ready to learn;
• $331,000 to expand Clinic Ole's upper valley facility in St. Helena;
• $200,000 for a planning grant to integrate clinical and behavioral health services; and
• $10 million as the lead donation in late August to create the Napa Valley Community Disaster Relief Fund in response to the South Napa earthquake.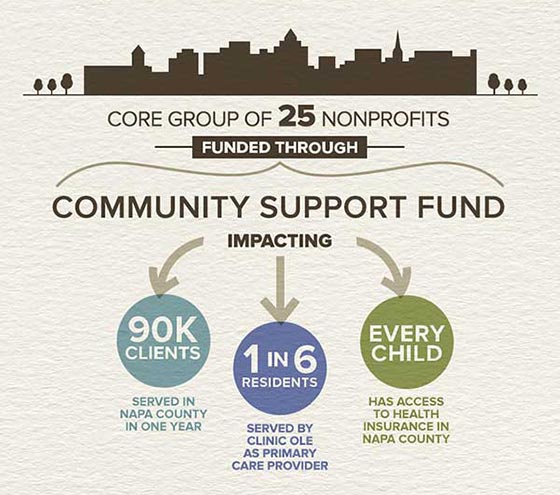 Impact of Auction Napa Valley Giving on the Community
[view and download full infographic]

Today's giving to community health organizations: $5,745,000

Healthcare: $3,000,000
• Children's Health Initiative
• Community Health Clinic Ole
• Pediatric Dental Services Surgery Center
• Planned Parenthood Northern California
• Queen of the Valley Hospital CARE Network
• St. Helena Hospital Family Birth Center

Emotional Health: $1,200,000
• Aldea Children and Family Services
• Family Services of Napa Valley
• Napa Emergency Women's Services

Family Support Services: $905,000
• American Canyon Family Resource Center
• Cope Family Center
• Legal Aid of Napa Valley
• ParentsCan
• Puertas Abiertas Community Resource Center
• UpValley Family Centers

Senior Support Services: $640,000
• Area Agency on Aging Serving Napa and Solano
• Napa Valley Hospice & Adult Day Services
• Rianda House Senior Activity Center

About the Napa Valley Vintners
The Napa Valley Vintners (NVV) nonprofit trade association has been cultivating excellence for 70 years by inspiring its 500 members to produce wines of the highest quality, to provide environmental leadership and to care for the extraordinary place they call home. Learn more at napavintners.com

About Auction Napa Valley
Auction Napa Valley is the NVV's annual community fundraiser that for nearly 35 years has utilized the worldwide reputation of Napa Valley wines and the scenic beauty of the region to raise funds to enhance the health and wellbeing of the Napa Valley community. To date, the NVV has invested more than $145 million from Auction Napa Valley proceeds in Napa County nonprofit organizations. Learn more at auctionnapavalley.org
Contact: Cate Conniff, Communications Manager 707.968.4229 cconniff@napavintners.com