Napa Valley Harvest in High Gear as Picking Switches from White Wine Grapes to Reds
Pace picks up as warm weather continues to provide ideal ripening conditions
9/12/2013 - St. Helena, CA--With warm weather continuing into September, the Napa Valley Vintners (NVV) reports that the pace of the 2013 Napa Valley wine grape harvest has accelerated. The picking of white wine grapes, especially aromatic varieties, is nearly finished and the harvesting of red wine grapes including Pinot Noir, Merlot and Malbec, is in full swing.

After a spell of hot weather last week, the marine influence is again being felt in Napa Valley, providing what Pam Starr, winemaker for Crocker & Starr Wines in St. Helena, calls "luxurious hang time" for the development of balanced sugars and acids that portend the makings of another quality vintage.

The region's diverse terrain, soil types, microclimates, vineyard locations, grape varieties and wine styles, along with many other intricate climatic, geological, and geographical factors, make harvest in Napa Valley a complex, exhilarating and moment-by-moment process, which can be followed at napavintners.com/harvest. On the website, visitors can become part of the Napa Valley harvest action with:


A new video series capturing winemakers in the vineyards and on the crush pad offering up-to-date comments from key geographic areas of the valley (see below)


Quotes from winemakers throughout Napa Valley that provide vivid sketches of what's happening from Carneros to Calistoga


An ever-expanding gallery of photos from vineyard and winery workers and Napa Valley locals portraying the harvest, from the humor and whimsy of this exuberant experience to moments in time as grapes are picked, de-stemmed, crushed and make their way to fermentation


A hand-illustrated, downloadable 2013/2014 harvest season calendar depicting what it takes from bud break to bottling for a grape to become Napa Valley wine (along with the chance to receive one of 500 custom-printed, desktop versions of the calendar-see below)


An educational narrative of the life cycle of a wine grape, offering easy to follow definitions of phrases such as "winter pruning," "flowering," "veraison" and more.
About the Napa Valley Vintners
The Napa Valley Vintners (NVV) is the non-profit trade association responsible for promoting and protecting the Napa Valley appellation as the premier winegrowing region. From seven founding members in 1944, today the association represents nearly 500 Napa Valley wineries and is a leader in the worldwide wine industry. To learn more about our region and its legendary American wines, visit www.napavintners.com.  
Harvest Napa Valley Winemaker Quotes
"It has been a busy week here in Rutherford. At Honig, we will be wrapping up our Rutherford Sauvignon Blanc tomorrow and received our first reds this morning. Whatever happened to that nice little lull between whites and reds? The reds, for us, are a full three weeks earlier than last year. The vineyards seem to have weathered the late summer heat well and the fruit looks great. Peju reports that they will be harvesting their first Rutherford Merlot by end of week. Beaulieu Vineyard reported this is the first time they have harvested Cabernet Sauvignon before all of the Chardonnay was in."
Kristen Belair, Honig Vineyard & Winery (Rutherford)

We picked Chardonnay at the beginning of the week and look to bring in some Syrah and Merlot by the end of the week. Cabernet Sauvignon, however, in this part of the Valley could easily be two weeks off. Although July and August were historically cool in Coombsville, the vines continued to plug away and harvest arrived early. Even in the face of this late heat, the health and strength of the vines seems to trump the heat, and ripening continues at a similarly even pace. In other words, an early harvest doesn't necessarily indicate a warm vintage--the vines keep their own time. The first Pinot Noirs are nearly dry, and we will press them by the week's end.
Ken Bernards, Ancien Wines (Coombsville)

"Summer has finally arrived just as we are approaching fall. This past week of warmer weather, well into the high 90's, is promoting the final preparation of skin and seed development for the big reds. These temperatures have brought true ripeness to our Malbec and Merlot which will be picked later this week. After several clear mornings, we anticipate the morning fog to return, allowing remaining clusters luxurious hang time."
Pam Starr, Crocker & Starr Wines (St. Helena)

"Consistent warm evenings free from the influence of marine layer which fills the valley, and the additional sunlight, also a result of a fog free environment (at 2,200 feet ), means the fruit is ripening nicely. Zinfandel berries are beginning to soften along with rising sugars and falling acids. Flavor development is in its earliest stages, but another ten days (+/-) and we expect to be harvesting. We are a good three weeks ahead of 2012. Crop size appears to be slightly above average (even after dropping 40-50% of the fruit) with atypical evenness. For all the same reasons the Cabernet is tracking like Zinfandel. Looks like the 2013 growing season could provide us with yet another very high quality vintage."
Mike Lamborn, Lamborn Family Vineyards (Howell Mountain)

"In Stags Leap District, Labor Day weekend was immediately followed by the boisterous start of harvest 2013. Several of our neighbors including Pine Ridge, Cliff Lede and Clos du Val began harvesting Merlot and Malbec in their vineyards. At Chimney Rock, our first block in will be one of our hillside blocks of Merlot. The flavors are exquisite this year and we expect that the persistent warm temperatures of the last few weeks will catapult us into a fairly steady and intense pace very soon. The show is on!"
Elizabeth Vianna, Chimney Rock Winery (Stags Leap District)

"Continued gorgeous ripening weather has kept the Yountville harvest moving along beautifully. Most of the fruit for sparkling wines, as well as much of our Sauvignon Blanc and Semillon is now in. Timing so far is proving to be around 2 weeks ahead of our 10-year averages, with yields lower than the bumper crop of 2012 but still nicely above historical norms. Initial quality assessments from around the AVA have ranged from "very good to excellent, with superb acid balance" to "awesome" and "fantastic!" Chardonnay harvesting began last week with harvesting of red Bordeaux varieties likely to begin with Merlot later this week. Things are looking great so far!"
Paul Colantuoni, Rocca Family Vineyards (Yountville)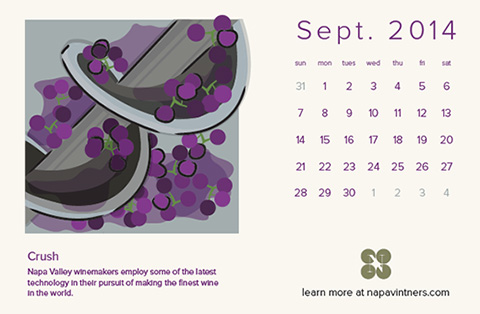 Download links:
Harvest Calendar
B-roll for Nightime Harvesting
Contact: Patsy McGaughy, Communications Director 707.968.4207 pmcgaughy@napavintners.com