Napa Valley Vintners Halfway to Achieving 100 Percent Napa Green Sustainability Goal
Milestone announcement coincides with trade association's participation in Napa Earth Day Celebration
4/18/2017 - St. Helena, CA – The Napa Valley Vintners (NVV) nonprofit trade association announced today it has reached an important sustainability milestone: 50 percent of its eligible members (those who own a winery, vineyard land or both) are now in the Napa Green environmental sustainability program.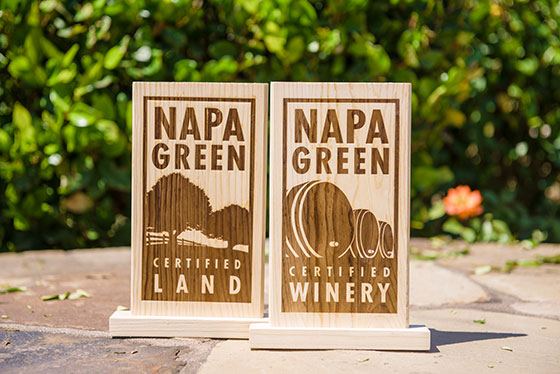 Napa Green is a third-party certification program for vineyards and wineries in the Napa Valley. It employs a comprehensive, 'soil to bottle' approach to stewardship, integrating holistic management practices throughout the grape growing and winemaking process, making it the most rigorous environmental certification program in the wine industry. Certification of farms and winemaking facilities is provided by the National Marine Fisheries Service, Napa County, the Regional Water Quality Control Board and the California Green Business Program. The program was developed in the early 2000s by more than 20 stakeholders from the wine industry, environmental groups, government and regulatory agencies.
In March of 2015, the NVV announced its goal that all eligible members will be in the Napa Green program by the end of 2020. Of the trade association's 533 members, 435 own their own winery or vineyard land, making them eligible. As of today, half of those eligible NVV members are enrolled or certified in the Napa Green program.
"When the NVV Board of Directors set our 100 percent Napa Green by 2020 goal, we knew it was ambitious," said Michael Honig, chair of the NVV Board of Directors and president of Honig Vineyard & Winery. "We couldn't be more proud to be halfway there, just two years after making the announcement. Participation in Napa Green is exacting – every detail matters. Getting certified requires a high level of commitment from winery and land owners and their employees, but it's the right thing to do for our community and for future generations."
Honig's family winery is certified both Napa Green Land and Winery and he notes that all 10 of his fellow NVV board members are also participating in the program, setting an example for their vintner colleagues.
To celebrate the 50 percent milestone with the local community, the NVV is participating in the Earth Day Celebration at the Oxbow Commons in downtown Napa on Saturday, April 22. From 11 a.m. to 4 p.m., there will be educational exhibits and activities centered around sustainability themes. The NVV is hosting a booth featuring wines from Napa Green producers. The public is encouraged to attend to learn more about sustainability in general and the Napa Green program specifically. More information can be found at napaenvironmentaled.org
Details About Napa Green Land
The first Napa Green Land certification was in 2004.
Today, more than 70,000 acres of land are in the Napa Green Land program.
45 percent of Napa Valley vineyards are certified Napa Green Land (more than 20,000 acres).
Land owners inventory and manage their parcels holistically, applying best management techniques not just to vineyards, but to their entire property.
Participation ensures properties are compliant with environmental regulations, or are working to exceed compliance.
Independent certification is granted by the National Marine Fisheries Service, the Regional Water Quality Control Board, the Napa County Agricultural Commissioner and Napa County Public Works.
Recertification is required every five to seven years based on implementation of a custom farm plan and demonstration of continuous improvement.
Details About Napa Green Winery
The first Napa Green Winery certification was in 2008.
Today, there are more than 55 Napa Green Certified Wineries.
The program aims to improve each winery's carbon footprint by quantifying and reducing water and energy use and curtailing waste.
Independent certification is by county auditors for the California Green Business program.
Recertification is required every three years based on tracking water and energy use and waste diversion and demonstrating continuous improvement in resource conservation.
More information is available at napagreen.org.
About the Napa Valley Vintners
The Napa Valley Vintners nonprofit trade association has been cultivating excellence since 1944 by inspiring its 533 members to consistently produce wines of the highest quality, to provide environmental leadership and to care for the extraordinary place they call home. Learn more at napavintners.com.
Contact: Patsy McGaughy, Communications Director - 707.968.4207, pmcgaughy@napavintners.com