Auction Napa Valley 2017 Tickets Now on Sale
Eleanor, Francis, Sofia, Roman and Gia Coppola will serve as honorary chairs of the world's most celebrated charity wine event
2/2/2017 - St. Helena, CA--Tickets are now available for the 37th annual Auction Napa Valley, the American Wine Classic. Hosted by the Napa Valley Vintners (NVV) nonprofit trade association to raise funds for Napa Valley community health and children's education nonprofits, this year's Auction Napa Valley takes place June 1 to 4. Details, including ticket package options, can be found at the newly redesigned auctionnapavalley.org website.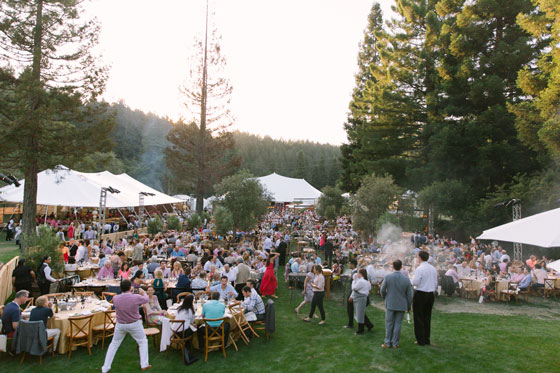 "Our family has deep roots in Napa Valley and we are honored to be part of creating a memorable experience for this year's Auction Napa Valley guests," said Roman Coppola, noted filmmaker, screenwriter and producer. "We are inspired by how many lives are touched each year by Auction Napa Valley proceeds and look forward to collaborating with the Napa Valley vintner community to help ensure a healthy future for our neighbors."
Coppola family members will be directing the Auction events that come together to form four days of the best of Napa Valley's wine, food, scenic beauty and hospitality:
Thursday evening: Vintner Welcome Parties showcasing Napa Valley's relaxed, down-to-earth side.
Friday: The Napa Valley Barrel Auction to be held in the caves at the Coppola's historic Inglenook estate, where guests have the unique experience of tasting and bidding on 100 different wines directly from the barrel. New this year will be pavilions created outdoors on the estate grounds featuring wines made from Napa Valley's top grape varieties paired with complementary food from some of the Coppola's favorite Napa Valley restaurants.
Friday evening: Vintner-Hosted Dinners in intimate settings with noted Napa Valley winery owners opening their homes and private cellars for elegant dinners crafted by some of the country's most regarded chefs.
Saturday morning: Vintner-Hosted Al Fresco Activities such as cooking with Francis Coppola and bicycling and vineyard hikes with noted vintners as restorative ways to start the day.
Saturday afternoon and evening: The crescendo of the weekend, the Live Auction Celebration at Meadowood Napa Valley. This is the big show under the big tent where bidders vie for Napa Valley's finest wines, far-flung adventures and treasures of the rarest kind. Once the last gavel falls, guests will enjoy an Italian-inspired dinner designed by Francis Coppola and friends. At the after-party, guests will dance the night away to a soon-to-be announced musical headliner.
Sunday morning: Bringing the weekend to a close, a Farewell Brunch at Charles Krug.
Auction Napa Valley tickets are limited and typically sell out. Four package options are available at auctionnapavalley.org:
The VIP Auction Napa Valley Experience
The Complete Auction Napa Valley Experience
Saturday's Live Auction Celebration
A Taste of Auction Napa Valley
To date, the NVV has invested $170 million in children's education and community health in Napa County. In 2015 alone, proceeds from Auction Napa Valley contributed to the wellbeing of more than 100,000 clients of Napa County nonprofits receiving funding, including OLE Health serving as the primary care provider for one in six residents, every child in Napa County having access to health insurance and more children entering kindergarten ready to learn.
About Auction Napa Valley Since 1981, Auction Napa Valley, the Napa Valley Vintners' (NVV) annual community fundraiser, has utilized the worldwide reputation of Napa Valley wines and the scenic beauty of the region to enhance the health and wellbeing of the Napa County community. To date, the NVV has invested $170 million from Auction Napa Valley proceeds in local nonprofit organizations. Learn more at auctionnapavalley.org.
About the Napa Valley Vintners The Napa Valley Vintners nonprofit trade association has been cultivating excellence since 1944 by inspiring its more than 525 members to consistently produce wines of the highest quality, to provide environmental leadership and to care for the extraordinary place they call home. Learn more at napavintners.com.
Contact: Cate Conniff, Communications Manager - 707.968.4229, cconniff@napavintners.com