Napa Valley Vintners Announces 2017 Board Leadership at Annual Meeting
1/16/2017 - St. Helena, CA – The Napa Valley Vintners (NVV) has announced that Michael Honig, president of Honig Vineyard & Winery, will serve as chair of the trade association's board of directors for 2017.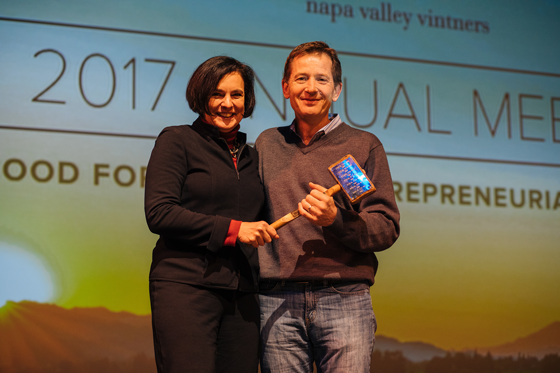 Outgoing chair Emma Swain, CEO of St. Supéry Estate Vineyards & Winery, passed the ceremonial gavel – an antique wine barrel bung hammer – to Honig at the NVV's annual membership meeting attended by more than 300 vintners last Friday.
In his remarks to NVV members, Honig noted the association's strategic goals he is most eager to oversee in the coming year are strengthening the wine community's goodwill with local residents and advancing the organization's global marketing strategies.
"The wine community needs to continue being a good neighbor by taking care of the Napa Valley that we all treasure," said Honig. "I've lived here all my life and I'm raising my family here, so this is personally important to me."
Honig also talked about his hopes for the wine region on the international stage: "We must maintain Napa Valley's position as a leading wine region," he said. "Our reputation for producing some of the world's finest wines is the reason why Napa Valley remains dedicated to agriculture and not over-developed, like other Bay Area counties."
In her outgoing remarks, Swain noted the NVV's progress toward achieving its goal that all eligible members will be in the Napa Green Certified Land or Winery programs by 2020 as her proudest accomplishment. "We're at 40 percent of our goal," said Swain. "We need everyone on board to achieve 100 percent participation and protect Napa Valley for future generations. As Napa Green challenges us in our environmental stewardship, we should work to meet and exceed our goal as an organization by 2020."
Neal Gottlieb, founder of Three Twins Ice cream, gave the meeting's keynote address, sharing his creative marketing strategies and discussing his company's commitment to social responsibility. Other speakers included Alfredo Pedroza, chair of the Napa County Board of Supervisors who presented his predictions for the local community for 2017 and Rob McMillan, EVP and founder of Silicon Valley Bank's Wine Division, previewed his annual "State of the Wine Industry" report.
About the Napa Valley Vintners The Napa Valley Vintners nonprofit trade association has been cultivating excellence since 1944 by inspiring its more than 525 members to consistently produce wines of the highest quality, to provide environmental leadership and to care for the extraordinary place they call home. Learn more at napavintners.com.
Contact: Patsy McGaughy, Communications Director - 707.968.4207, pmcgaughy@napavintners.com