Napa County Residents Invited to Spend a Morning in the Winery
Napa Valley Vintners' open house event connects locals with the wine community
12/22/2016 - St. Helena, CA – The Napa Valley Vintners (NVV) invites local residents to spend the morning of Saturday, January 7 at one of five Napa Green Certified Wineries that will open their cellar doors to neighbors for the fourth annual Morning in the Winery event.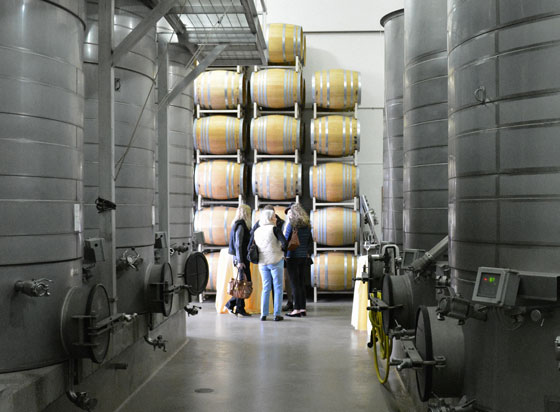 "We're all so lucky to call Napa Valley our home," said Emma Swain, chair of the NVV Board of Directors and president and CEO of St. Supéry Estate Vineyards and Winery. "Morning in the Winery is about neighbors gathering with neighbors to talk about our shared commitment to this special place and to learn how Napa Green is helping to protect our environment."
The Napa Green Certified Winery program helps wineries to reduce energy and water use and to decrease waste. Participating wineries must implement at least 100 measures that ensure the winery has gone beyond compliance to conserve resources. Certification is granted by the Napa County Department of Environmental Management. Wineries must improve their performance every three years in order to become recertified.
The five wineries that will be open on January 7 from 10 a.m. to noon include Humanitas Wines, Bouchaine Vineyards and Odette Estate Winery in Napa; Silver Oak Cellars in Oakville; and Beringer Vineyards in St. Helena. Local residents are encouraged to visit the winery closest to them. No RSVP is needed and the event will take place rain or shine.
For more information, visit napavintners.com.
About the Napa Valley Vintners
The Napa Valley Vintners nonprofit trade association has been cultivating excellence since 1944 by inspiring its more than 525 members to consistently produce wines of the highest quality, to provide environmental leadership and to care for the extraordinary place they call home. Learn more at napavintners.com.
Contact: Cate Conniff, Communications Manager, cconniff@napavintners.com, 707.968.4229