Porto Wine Region Salutes Napa Valley Vintners
11/3/2016 - St. Helena, CA - Portuguese wine industry leaders have officially recognized four members of the Napa Valley Vintners (NVV) nonprofit trade association for voluntarily discontinuing the use of the term 'port' for their fortified dessert wines.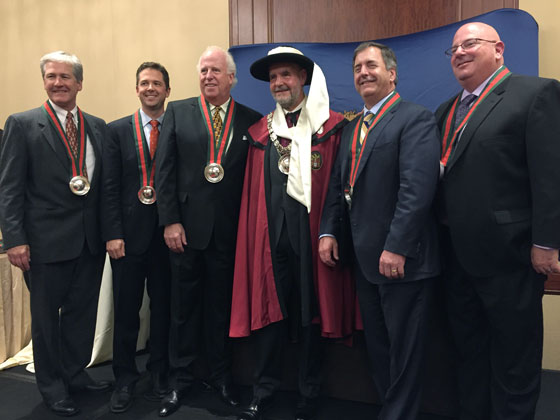 Pictured L-R: Judd Wallenbrock, Jessup Cellars; Michael Maher, Freemark Abbey; Stan Boyd, Boyd Family Vineyards; George Sandeman, Confraria do Vinho do Porto; Vance Thompson, Jessup Cellars; Andrew Schweiger, Schweiger Vineyards.
On October 27 in San Francisco, the Confraria do Vinho do Porto inducted Boyd Family Vineyards, Freemark Abbey, Jessup Cellars and Schweiger Vineyards into their organization. In June, the Confraria also recognized the NVV for its work to protect winegrowing region names worldwide. The Confraria's mission is to communicate, promote and reinforce the worldwide reputation of Port wine.
"Boyd Family, Freemark Abbey, Jessup Cellars and Schweiger Vineyards personify the shared belief among the NVV and my colleagues in Porto that all winegrowing place names should be respected and protected," said Confraria Chancellor George Sandeman. "We salute those esteemed Napa Valley winemakers."
The NVV began working with Porto in 2005, with the signing of the Joint Declaration to Protect Wine Place and Origin. Other founding members of the Declaration include Champagne, Sherry, Willamette Valley, Oregon, Walla Walla and Washington state. Today the partnership features 20 famous wine regions, collaborating to promote the belief that place of origin is important to the production of quality wine. The day after the Confraria's induction ceremony, Declaration members met in San Francisco to discuss plans and activities for 2017 and beyond.
About the Napa Valley Vintners
The Napa Valley Vintners nonprofit trade association has been cultivating excellence since 1944 by inspiring its more than 525 members to consistently produce wines of the highest quality, to provide environmental leadership and to care for the extraordinary place they call home. Learn more at napavintners.com.
Contact: Patsy McGaughy, Communications Director - 707.968.4207, pmcgaughy@napavintners.com