Napa Valley Vintners Releases New Trade Education Resource for Tablets
3/22/2016 - St. Helena, CA - As part of its ongoing effort to educate wine professionals about the attributes of America's leading wine region, the Napa Valley Vintners (NVV) nonprofit trade association has launched a new training tool for iPad. Napa Valley Cultivating Excellence allows users to explore the history, geology, climate and quality winemaking practices of the region in an interactive and visually compelling format.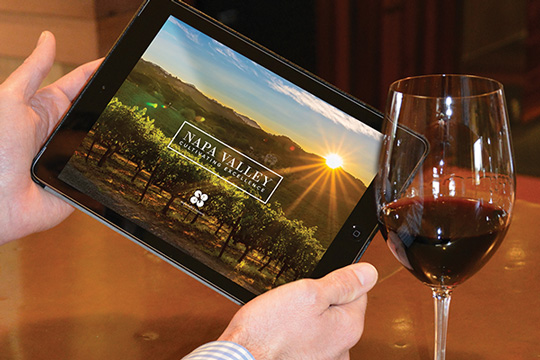 "The NVV's new Cultivating Excellence tool really brings the unique characteristics of Napa Valley as a spectacular wine growing region to life for both me, my team and my clients," noted Michael Bryan, managing partner of Vino Venue & Atlanta Wine School. "We appreciate using this resource as a cool new way to interact with our customers."

While primarily designed as a resource for members of the trade, Napa Valley Cultivating Excellence is suitable for both wine professionals and enthusiastic consumers discovering or expanding their interest in the wine region.

"Restaurant servers, retail store employees and distributor salespeople, among others, can use this tool to learn about the Napa Valley," noted Linda Reiff, NVV president and CEO. "It is also an effective way for them to share their enthusiasm and knowledge with wine consumers."

Napa Valley Cultivating Excellence is now available for download in the App store and for Android on Google Play

About the Napa Valley Vintners
The Napa Valley Vintners nonprofit trade association has been cultivating excellence since 1944 by inspiring its more than 525 members to consistently produce wines of the highest quality, to provide environmental leadership and to care for the extraordinary place they call home. Learn more at napavintners.com.



Contact: Cate Conniff, Communications Manager 707.968.4229 cconniff@napavintners.com