Three Napa Valley Producers Agree to Give Up Use of Name 'Port' on Wine Labels
Announcement at Napa Valley Vintners Annual Meeting shows support for trade association's commitment to protecting Napa name and preventing consumer confusion
1/19/2016 - St. Helena, CA – Three winery members of the Napa Valley Vintners (NVV) announced today at the nonprofit trade association's Annual General Membership Meeting that they are voluntarily giving up use of the name 'Port' on their Napa Valley fortified dessert wines.

The producers – Boyd Family Vineyards, Freemark Abbey and Jessup Cellars – have the legal right to use the term because they were grandfathered following the signing of the 2006 U.S./European Commission Wine Trade Agreement. However, each has voluntarily agreed to abandon use of the semi-generic term out of respect for the NVV's efforts to protect winemaking place names and as a nod to the Napa Valley's alliance with Porto, the world's oldest denominated wine region.

"Protecting the Napa name and preventing consumer confusion are top priorities for the NVV," said Emma Swain, incoming chair of the board of the 525-plus member organization and CEO of St. Supéry Estate Vineyards & Winery. "If we're asking other regions to respect our name, we've got to walk the talk. We applaud these three member wineries for doing the right thing and we encourage other vintners to follow suit."

Vincent Perrin, director general of the Comité Champagne, delivered the meeting's keynote address, providing insights from his trade association about luxury marketing. Champagne has been a steadfast NVV ally in the global effort to protect and respect place names for quality wine regions. Napa Valley, Champagne and Porto were also three of the original signatories of the transatlantic agreement, Joint Declaration to Protect Wine Place & Origin in 2005.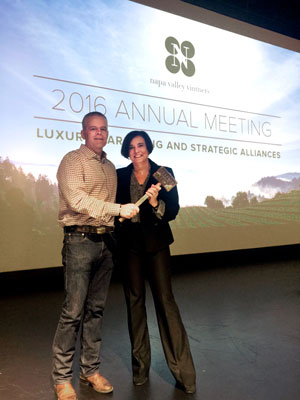 David R. Duncan and Emma Swain, NVV 2016 Annual Meeting
Also at the meeting, David R. Duncan of Silver Oak and Twomey Cellars, outgoing chair of the NVV Board of Directors, passed the association's ceremonial gavel – a historic wine barrel bung hammer – to incoming chair Swain. Other 2016 NVV Board officers joining Duncan and Swain include Michael Honig of Honig Vineyard & Winery, vice-chair, and Paul Leary of Blackbird Vineyards, treasurer/secretary. Additional members of the 2016 NVV Board are Susan Boswell of Chateau Boswell, Darioush Khaledi of Darioush, Peter McCrea of Stony Hill, David Pearson of Opus One, Pat Stotesbery of Ladera Vineyards, Hailey Trefethen of Trefethen Family Vineyards and Russ Weis of Silverado Vineyards. Local residents David Butler, Ed Matovcik and Carol Kingery Ritter were announced as the 2016 Auction Napa Valley Community Board members.
To see photos from today's NVV Annual Meeting,
visit napavintners.com.
For more information about the movement to end purposeful mislabeling and misuse of geographic names for wine, visit
wineorigins.com.
About the Napa Valley Vintners
The Napa Valley Vintners nonprofit trade association has been cultivating excellence since 1944 by inspiring its more than 525 members to consistently produce wines of the highest quality, to provide environmental leadership and to care for the extraordinary place they call home. Learn more at
napavintners.com.
Contact: Patsy McGaughy, Communications Director 707.968.4207 pmcgaughy@napavintners.com