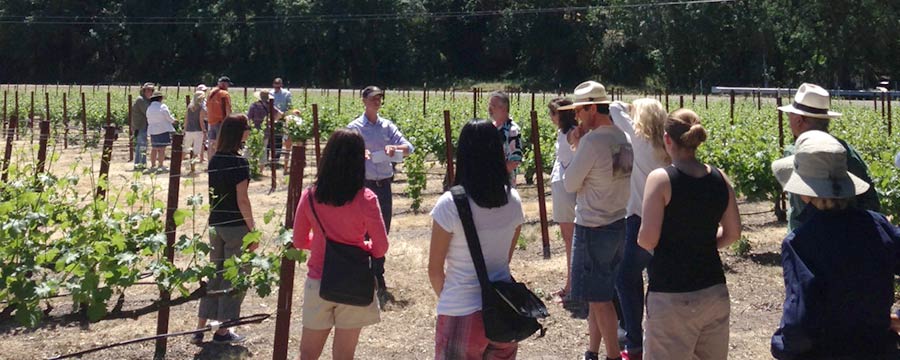 Visit your neighborhood vineyard.
Going on its 14th year, Afternoon in the Vineyards is a free annual community open house that gives Napa County residents an opportunity to tour local vineyards and learn about the innovative grape growing and winemaking techniques that make the Napa Valley unique. The event is hosted in partnership with the Napa Valley Grapegrowers.
Each year, the event highlights different vineyards and explores the Napa Valley's history of sustainability and stewardship. We invite residents to visit the vineyard nearest them and see what is going on in their own backyard, including site-specific vineyard practices, winery history, and to taste wines made from that vineyard location.
Join us for the next Afternoon in the Vineyards
Saturday, May 3, 2-4 p.m.
The Napa Valley Grapegrowers and Napa Valley Vintners invite you to spend an afternoon in the vineyards with those who tend the vines and make the wines. Explore your local vineyard and learn about what makes the Napa Valley a unique grapegrowing region and the home of world-class wines. This event is a casual community open house, complimentary for Napa County residents and their guests. To be held rain or shine.
Choose the vineyard closest to you:
American Canyon
Grgich Hills Estate
Near 150 South Kelly Road (follow event signs)
Napa
Pine Ridge Vineyards
2121 Buhman Avenue
Hagafen Cellars
4160 Silverado Trail
Yountville
Paraduxx
7257 Silverado Trail
St. Helena
Crocker & Starr
700 Dowdell Lane
Calistoga
Kenefick Ranch
2200 Pickett Road