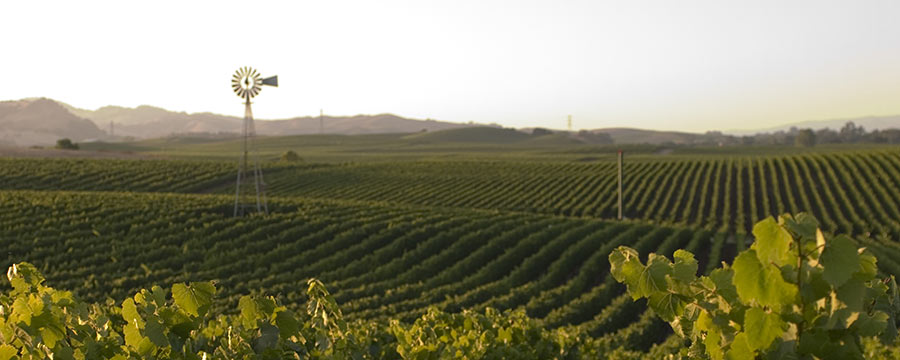 Napa County has more than 444,000 acres of land under permanent or high levels of protection from development.
Throughout our history, vintners in the Napa Valley have set the highest standard of land use and management designed to preserve our agricultural heritage and way of life. Building on our history of sustainability, vintners continue to demonstrate environmental leadership through programs such as Napa Green Certified Land and Napa Green Certified Winery.
Establishment of the Agricultural Preserve
Napa Valley's environmental leadership story begins in 1968, when Napa Valley vintners and others in the community had the forethought to preserve open space and prevent future over-development by enacting the nation's first Agriculture Preserve. This land-zoning ordinance established agriculture and open space as the best use for the land in the fertile valley and foothill areas of Napa County. Initially the ordinance protected 23,000 acres of agricultural land stretching from Napa in the south to Calistoga. Today, more than 32,000 acres are contained within the Preserve.
Protecting Our Land
Understanding the importance of keeping rural lands rural, the Land Trust of Napa County was established in 1976 and created conservation easements for land owners to preserve and protect their land in perpetuity from development. Today, more than 55,000 acres, roughly 10% of Napa County, is protected.
Addressing Population Pressures
In 1980, Napa County voters passed Slow Growth Initiative Measure A, which required that the Napa County General Plan adopt a Growth Management System that limited growth in Napa County to no more than 1% per year. This measure, which protects against sprawl and encroachment into ag land, is still in effect today.
Definitions Matter
By 1990, there were more than 200 wineries in the Napa Valley. As the wine industry continued to grow, it became apparent that clear definitions of what a winery was and what it wasn't were needed. Can a winery have its own on site restaurant? What about weddings and music festivals? That year, the Napa County Board of Supervisors adopted the Winery Definition Ordinance, which clearly defined and limited winery construction and activities in keeping with the land use regulations designed to protect Napa County for agricultural use.
Protecting Our Watershed
Recognizing the threats of erosion that hillside and valley floor vineyard development could pose to Napa's watersheds, in 1991 Napa County enacted comprehensive and rigorous conservation ordinances that regulated hillside development and ensured that vineyards had ample setbacks from streams. These ordinances further protected Napa Valley from development pressure, and in 2012 The Greenbelt Alliance announced that "Napa County has more than 444,000 acres of land under permanent or high levels of protection from development."
Napa Green 2020 Initiative
Napa Green is a voluntary, environmental certification program for Napa County vineyards and wineries developed in the early 2000s by more than 20 industry and environmental stakeholder groups, as well as local, state and federal regulators. The program is tailored to the Napa River watershed and to winery-specific practices that when implemented affect positive change for the local environment and community.
In 2015, we established a goal that every eligible NVV member will be in the Napa Green Land or Winery program by the end of the year 2020.
Napa Green: A History of Sustainability
A retrospective about the environmental leadership of Napa Valley's vintners and growers, from inception of the historic Agricultural Preserve in 1968, to innovative, new programs like Napa Green.