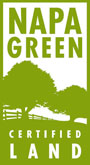 Certified Napa Green Land
Volker Eisele Family Estate is certified under the Napa Green Certified Land Program. Volker Eisele Family Estate has created and implemented a customized farm plan with measured results that addressed all aspects of its property, vineyard land as well as non-farmed land, including practicing soil conservation, water conservation, stable drainage, riparian corridor enhancement, fisheries and wildlife habitat enhancement and long-term improvement and sustainability.
Certification - certification is granted by the Napa County Agricultural Commissioners Office of Pesticide Regulation, the Regional Water Quality Control board, the California Department of Fish and Game, and the National Marine Fisheries Service.