Steve Leveque
Director of winemaking, HALL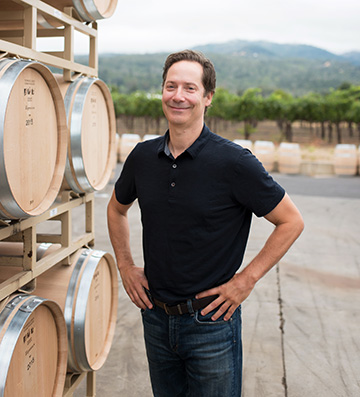 Always push the limit of our expectations.
Steve says the best way to break into the wine industry is to work a few harvests and learn from the ground up.
How many years have you been in the Napa Valley wine industry?
Seventeen years.
How did you get started in the wine business?
I was a harvest lab technician at Robert Mondavi Winery.
Which wine was your "a-ha!" wine – the one that made you love wine or inspired you to get into the industry?
1989 Domaine Meo-Camuzet Vosne Romanee.
Name a Napa Valley vintner who has influenced you and briefly explain why.
I was fortunate that my first position in winemaking was at RMW. I learned not to compromise and my passion for all things wine was fostered there.
What are the most rewarding aspects of your work?
Harvest is the best. While it is super busy, it is also the time of year that brings the most energy and excitement.
What are the greatest challenges?
Highway 29 traffic.
Our motto at the NVV is "cultivating excellence." What does this phrase mean to you and how do you cultivate excellence at your winery?
Never compromise. Always push the limit of our expectations. We are blessed in Napa Valley to have the world's best Cabernet Sauvignon growing conditions.
What do you think makes Napa Valley unique compared to other wine regions?
Our ability to attain perfect ripenness while having a vast diversity of growing areas, soil types and topographies.
What are you doing at your winery to help preserve and enhance Napa Valley for the future?
Organically farming all of our vineyards as well as building LEED-certified green buildings.
How does your winery help tell the Napa Valley story?
We participate in as many NVV events and try to host international groups whenever possible.
If you weren't a Napa Valley vintner, what would you be doing?
Making wine elsewhere.
If you could open a bottle of your wine and share it with any three people (living or not), who would they be?
Thomas Jefferson, Henri Jayer, Pope Francis.
What advice would you offer someone trying to get into the Napa Valley wine industry?
Work a few harvests dragging hoses in the cellar. Learn from the ground up!
What's one thing people would be surprised to know about you?
No secrets with me.