Stephen Parry
Owner, Stephen and Sue Parry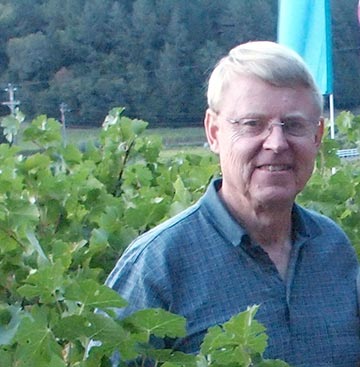 Even a winery as small as we are can be successful in the Napa Valley.
In his college days, Stepehen took up skydiving and competed on the UC Davis team.
How many years have you been in the Napa Valley wine industry?
17 years.
How did you get started in the wine business?
While working for the U.S. Fish and Wildlife Service, we sold our former home in Boston and were fortunate to buy a house outside of St. Helena that just happened to come with an already-planted vineyard.
Which wine was your "a-ha!" wine – the one that made you love wine or inspired you to get into the industry?
While visiting family in San Francisco, we came up to the Napa Valley on one of our trips. We really enjoyed a bottle of Villa Mount Eden 1974 Cabernet Sauvignon and promptly bought our very first case of stellar Cabernet and shipped it back East.
Name a Napa Valley vintner who has influenced you and briefly explain why.
Both being very small vintners, we reached out to Rick Jones of Jones Family Vineyards for advice on how best to market our Cabernet.
What are the most rewarding aspects of your work?
The people we meet who purchase our wine and then become friends rather than just customers.
What are the greatest challenges?
Shipping our wine to members who live all over the U.S. and working with distributors.
What are you doing at your winery to help preserve and enhance Napa Valley for the future?
We farm our vineyard using sustainable practices, including a no-till cover crop under the Napa Green program. We also participate and donate our wine to a number of health-related charities in the Napa Valley and around the country.
How does your winery help tell the Napa Valley story?
Even a winery as small as we are – 200 cases a year – can be successful in the Napa Valley.
If you weren't a Napa Valley vintner, what would you be doing?
I would be retired for the second time and doing more traveling and wine tasting in the Napa Valley and other wine regions!
If you could open a bottle of your wine and share it with any three people (living or not), who would they be?
My father, Teddy Roosevelt and Aldo Leupold . Aldo is considered the father of wildlife management and environmental ethics.
What advice would you offer someone trying to get into the Napa Valley wine industry?
Be prepared to work hard both in growing grapes - after all, it's farming - and marketing your wine. A great wine rating is not the silver bullet!
What's one thing people would be surprised to know about you?
In my carefree college days, I took up skydiving and competed for the UC Davis skydiving team.