Nicole Marchesi
Winemaker, Far Niente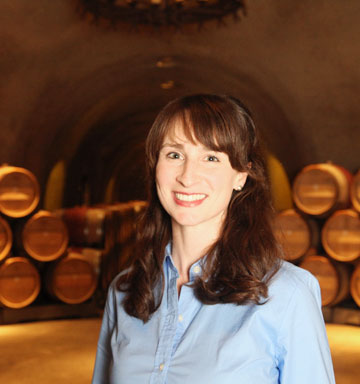 I love that I'm making a tangible product that can bring people together and help create memories.
A former rugby player in college, Nicole tackles the craft of winemaking with a student's love of learning.
How many years have you been in the Napa Valley wine industry?
10 years.
How did you get started in the wine business?
I was working on a biology degree at UC Davis but felt "lost in the crowd." While working as a features writer for the school newspaper, I had the opportunity to do a piece on the Department of Viticulture and Enology. It sounded like a great real world and interesting application of science, so I enrolled in the introductory class, switched majors and never looked back.
Which wine was your "a-ha!" wine – the one that made you love wine or inspired you to get into the industry?
It wasn't so much of an "a-ha" wine but more like "a-ha" moments at school. Getting to share and discuss wines with my friends and fellow students in college complemented the science of winemaking that we were being taught. I loved that wine could be scientific and social.
Name a Napa Valley vintner who has influenced you and briefly explain why.
I've really enjoyed the opportunity to work with Ashley Heisey, one of the previous winemakers at Far Niente. I appreciate the historical perspective of this property that she offered. I've learned from her the importance of organization, diligence, positivity and looking at challenges from different angles. I love her self-proclaimed title of "girl scientist!"
What are the most rewarding aspects of your work?
I love that every day is different. I love the adrenaline rush at harvest but appreciate the focused planning involved in bottling preparations. I love that I'm making a tangible product that can bring people together and help create memories. I love that I'm continuing to learn and still get to be a "student."
If you weren't a Napa Valley vintner, what would you be doing?
I love to read, so I'd probably be working in a bookshop or library.
If you could open a bottle of your wine and share it with any three people (living or not), who would they be?
My husband, because he is also a winemaker and deep down, his opinion matters the most to me. My grandfather, because he passed away when I was 12, so I'd love to show him what I have done in my adult life. Shakespeare, because maybe I could get him to write a sonnet about one of my wines!
What advice would you offer someone trying to get into the Napa Valley wine industry?
Education is so important! Work as an intern, getting your hands dirty. Travel and work internationally.
What's one thing people would be surprised to know about you?
I played rugby in college for two years.