Michael Baldacci
Director of Operations, Baldacci Family Vineyards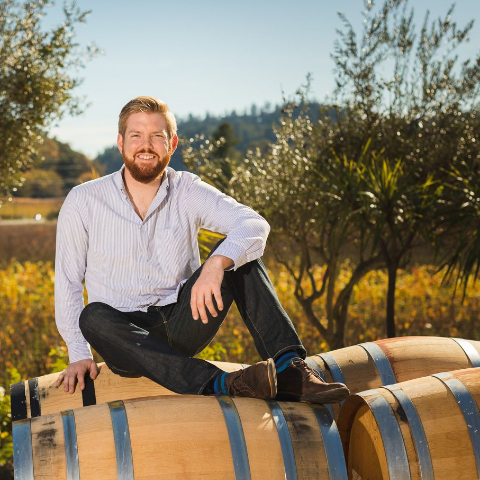 Each time I host a group that is visiting, they always note the closeness we share as vintners.
Michael would be a professional bull rider if he was not a Napa Valley vintner.
How many years have you been in the Napa Valley wine industry?
3 years.
How did you get started in the wine business?
I started working in the tasting room, and learning all about wine, the people that enjoy wine, and how to tell the story of Napa, and how our brand fits in that bigger story.
Name a Napa Valley vintner who has influenced you and briefly explain why.
Rolando Herrera is our winemaker, but his story is also amazing, going from working the cellars at Stag's Leap Wine Cellars to owning his own brand. The history that he has in this valley is amazing. He can compare any of the recent vintages to vintages he saw 10 to 30 years ago.
What are the most rewarding aspects of your work?
Meeting new people and teaching them about our wines, how we make them, why we make them, and also why my family is committed to the Napa Valley the way that we are.
What are the greatest challenges?
Trying to find your niche amongst all of the phenomenal wines being made in the Napa Valley.
Our motto at the NVV is "cultivating excellence." What does this phrase mean to you and how do you cultivate excellence at your winery?
It means that every day our actions we take are not only for the immediate gratification or future, but we are also ensuring we are making decisions that will lead to continued and greater successes. At our winery we are environmentally conscious in everything that we do. Our farming practices are evaluated with a watchful eye on the environment and protecting the beauty of Napa.
What do you think makes Napa Valley unique compared to other wine regions?
The size and camaraderie. Each time I host a group that is visiting through Experience Napa Valley, they always note the closeness we share as vintners. When I first became involved in the industry it was the one thing that really stood out to me the most.
If you weren't a Napa Valley vintner, what would you be doing?
A professional bull rider.
If you could open a bottle of your wine and share it with any three people (living or not), who would they be?
Jackie Robinson, Abraham Lincoln and my great grandfather.
What advice would you offer someone trying to get into the Napa Valley wine industry?
Get your hands dirty, and don't be afraid to take any position offered. Most wineries are so small, you get the opportunity to see every side of it from vineyard to production to the business.
What's one thing people would be surprised to know about you?
I have never had a bloody nose!