Gary Lipp
Vintner, Coho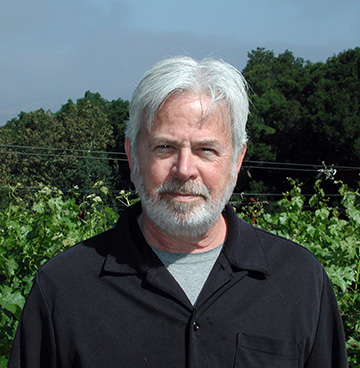 I believe in cultivating passion; that's what I think shows up in the bottle.
If he weren't a Napa Valley vintner, Gary would be running a wine bar and fighting with his daughter over who chooses the music.
How many years have you been in the Napa Valley wine industry?
34 years.
How did you get started in the wine business?
Working in wine-centric restaurants and fine wine shops in the 1970s.
Which wine was your "a-ha!" wine – the one that made you love wine or inspired you to get into the industry?
1972 Domaine Dujac Morey-St.-Denis
Name a Napa Valley vintner who has influenced you and briefly explain why.
I was privileged to work for Robert Mondavi for 11 years. Of the many things I learned from him, the two that stood out the most are 1) to succeed in the wine business you must think "long-term" and 2) that wine is a gift best shared with friends and family at the dining table.
What are the most rewarding aspects of your work?
Consumers sending me an email or letter letting me know how much they enjoyed a bottle of COHO.
What are the greatest challenges?
The escalating prices of Napa Valley fruit and the challenges of marketing to out-of-state markets.
Our motto at the NVV is "cultivating excellence." What does this phrase mean to you and how do you cultivate excellence at your winery?
I believe in cultivating passion; that's what I think shows up in the bottle.
What are you doing at your winery to help preserve and enhance Napa Valley for the future?
I'm fond of saying that "I make wine to sell wine." Our goal at COHO is to make delicious Napa Valley wines that people can afford to enjoy on a regular basis. I am hopeful that the future of Napa Valley wine will always include wines with a similar philosophy.
How does your winery help tell the Napa Valley story?
I conduct all my consumer tastings either at our shared facility or around my dining room table. To fill up that 90 minutes I tend to include a lot of stories about the people, wineries and experiences that have filled the last 34 years of my life.
If you could open a bottle of your wine and share it with any three people (living or not), who would they be?
Robert Mondavi and Joe Heitz so I could say thanks for all they did for me, and to Gram Parsons so we could talk about Emmylou Harris and a world of soul-filling music.
What advice would you offer someone trying to get into the Napa Valley wine industry?
There's no formula to making great wine so I'd say just go for it!
What's one thing people would be surprised to know about you?
That I got really lucky when Sheila Barry married me.