Bradley Smith
Winemaker, Silenus Winery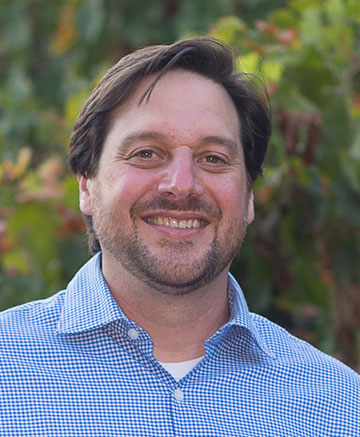 Everything in my life has led me to be here and only here.
A hippie at heart, Bradley once had designs on becoming a massage therapist.
How many years have you been in the Napa Valley wine industry?
21 years, minus 2 1/2 years studying enology at Fresno State.
How did you get started in the wine business?
My first job was at Mumm Napa Valley in 1994, working in the hospitality department giving tours and tasting. I fell head over heels in love with the wine business.
Which wine was your "a-ha!" wine – the one that made you love wine or inspired you to get into the industry?
1984 Freemark Abbey Cabernet Sauvignon from a magnum.
Name a Napa Valley vintner who has influenced you and briefly explain why.
Paul Hobbs. I love the lush, full, deep flavors in his wines.
What are the most rewarding aspects of your work?
I love the camaraderie with my co-workers and colleagues. Or when someone says something to the effect of, "Oh, I love this wine....you made this?"
What are the greatest challenges?
Adapting to the cards that Mother Nature deals.
What are you doing at your winery to help preserve and enhance Napa Valley for the future?
Currently, we are experimenting with a natural way to reduce the incidence of Pierce's Disease in our vineyard. The blue-green sharpshooters are the sap-feeding insects that spread the disease. Bluebirds are native to the area and are known to be voracious eaters of blue-green sharpshooters. We are installing nesting boxes specifically made for these birds. The idea is, we give the bluebirds a perfect place to nest and they help us out with our problem.
How does your winery help tell the Napa Valley story?
We try to say all we can through our wines. We feel like the "proof is in the pudding."
If you weren't a Napa Valley vintner, what would you be doing?
Geez, I don't know. I feel like everything in my life has led me to be here and only here.
If you could open a bottle of your wine and share it with any three people (living or not), who would they be?
My wife, Gina, because I am still always trying to impress and please her. Robert Mondavi, because he has always been my hero and idol. Andy Erickson, because he has the best overall judgment regarding wine (or anything else) of anyone I have ever known. I would love to hear his thoughts.
What's one thing people would be surprised to know about you?
I originally came to Napa Valley to be a massage therapist in Calistoga. I am a hippie at heart.