Adam Coremin
Founder, Decades 5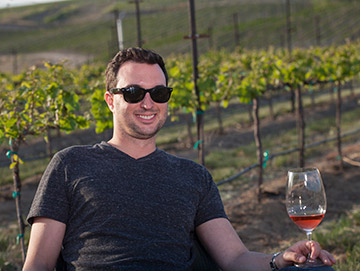 Being a very small producer, our challenge lies in telling our story.
Working at an Austrian wine bar made a big impression on Adam.
How many years have you been in the Napa Valley wine industry?
Wine industry for 13 years, the Napa Valley industry for 8 years.
How did you get started in the wine business?
I was working at a little wine bar in Vienna, Austria while in college and caught the bug!
Which wine was your "a-ha!" wine – the one that made you love wine or inspired you to get into the industry?
Throughout Austria there are small, usually family-run wineries that double as restaurants called Heurigen. They make brilliantly fresh and crisp Gruener Veltliners served cold and in carafes from the adjacent vineyards. It was here that I learned that wine is as much about the experience as what is in the glass and knew that I wanted to pursue a life in this industry.
Name a Napa Valley vintner who has influenced you and briefly explain why.
I have always been blown away by the team at Opus One. David Pearson has carried the torch lit by Robert Mondavi with tremendous vision and assembled one of the best viticulture teams and sales organizations in the industry.
What are the greatest challenges?
Being a very small producer, our challenge lies in telling our story to a larger audience and popping corks for those interested in trying our Petit Verdot. The varietal is not as familiar as Cabernet Sauvignon to most people, so we have to continue to educate and shout from the mountain tops that this is a world class grape on its own when grown here in Napa.
Our motto at the NVV is "cultivating excellence." What does this phrase mean to you and how do you cultivate excellence at your winery?
Everyone at Decades 5 holds themselves to an incredibly high standard. We do not cut corners in any of our vineyard or winemaking practices and only accept everyone's full commitment to make the best wine we possibly can. We are truly fortunate to work with Jan Krupp and Stagecoach Vineyard, and I want to give a nod to our consulting winemaker Jean Hoefliger, who I really believe is one of the most talented winemakers in the world.
What do you think makes Napa Valley unique compared to other wine regions?
There are few other regions that allow for the multitude of experiences that you can have here. Where else can you have lunch at a Thomas Keller restaurant, barrel taste with some of the best winemakers anywhere and wrap up your day by seeing Chris Isaak in concert all within a 20-minute drive?
If you could open a bottle of your wine and share it with any three people (living or not), who would they be?
My wife, Thomas Jefferson and Ernest Hemingway, though we would probably need more than one bottle.