Aaron Miller
Winemaker, PlumpJack Winery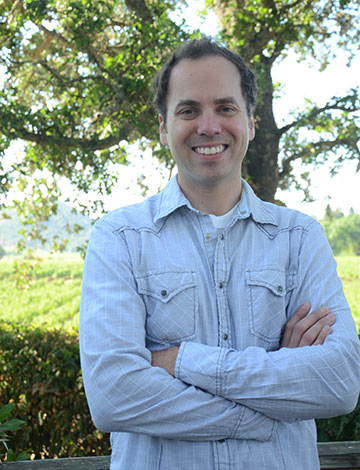 We put our blood, sweat and tears into our wines.
How many years have you been in the Napa Valley wine industry?
10 years.
Name a Napa Valley vintner who has influenced you and briefly explain why.
Eric Fidel at Groth Vineyards & Winery has had a great influence on me. Not only did he teach me a lot about winemaking, but he showed me that you can be incredibly passionate about wine and winemaking, while still leading a well-balanced life. You can make time for family. You can make time for other interests and passions.
Which wine was your "a-ha!" wine – the one that made you love wine or inspired you to get into the industry?
Like most college students, I couldn't afford to drink fine wine and craft beer, so I drank the cheap stuff. I liked it fine at the time and it served its purpose. Then, during my senior year (at UC Davis), my neighbor shared a bottle of 1997 Justin Isosceles from Paso Robles with me. It was delicious. All wines that I had tried up to that point were virtually flavorless relative to this wine. It left an impression on me and opened my eyes to a different world of wine. This wine piqued my interest and placed me on the path that led to where I am today.
If you weren't a Napa Valley vintner, what would you be doing?
In my spare time, I build furniture, landscape, garden and brew beer. These are some of the modes through which I express my creativity outside of winemaking.
What are the most rewarding aspects of your work?
Making wine is, in itself, rewarding. We take a seemingly simple product in the grape, and release all of its potential to craft a beautiful, complex end product. This process can take several years. We begin by carefully and thoughtfully cultivating our grapes in the vineyard. We try to determine the optimal time to pick, the best way to ferment, the right time to press. We put our blood, sweat and tears into our wines, and when we finally release them, we are proud to share them with you. We are proud to be a part of your dinner, your wedding, your engagement, your experience. This is rewarding.
What do you think makes Napa Valley unique compared to other wine regions?
Diversity. The Napa Valley has a multitude of soil profiles, meso- and micro-climates and topographies.
What advice would you offer someone trying to get into the Napa Valley wine industry?
Travel. Work harvest overseas. See the world. Meet and know people from diverse backgrounds. Learn about the world's cultures and history. The wine industry can take you to many places. Take advantage of this before settling down somewhere.