Lisa Warner
Proprietress/Winemaker, Leto Cellars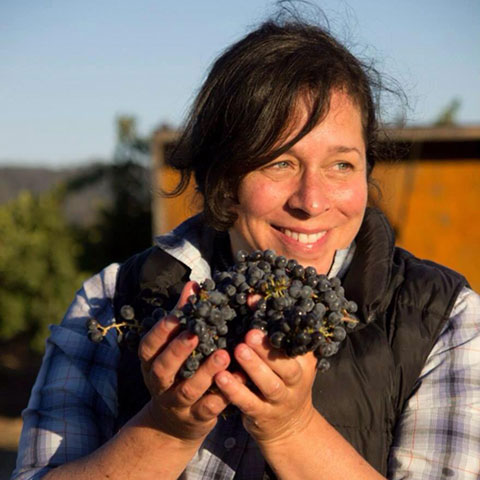 Winemaking begins with people.
When she's not making wine, Lisa is learning to play the ukulele.
How many years have you been in the Napa Valley wine industry?
26.
How did you get started in the wine business?
In the purchasing department at Robert Mondavi Winery. I typed up the purchase orders and cleared corks through customs.
Which wine was your "a-ha!" wine – the one that made you love wine or inspired you to get into the industry?
I started out as a young foodie with zero wine exposure. I wanted to work at Robert Mondavi because of the Great Chefs Program. It was there when pairing wine with food that I realized the connection. It was definitely a "wow, this changes everything" moment. Oh, the wine was Fume Blanc.
Name a Napa Valley vintner who has influenced you and briefly explain why.
Again, Robert Mondavi. A work ethic that values quality above all else and challenges a person to examine if it can be done better at every turn.
What are the most rewarding aspects of your work?
I adore making things to share with people. There is something special about gathering people together and serving great food and sharing a glass of wine that leaves me satisfied and happy.
What are the greatest challenges?
Sitting down for lunch during harvest. It's hard to get back up some days!
Our motto at the NVV is "cultivating excellence." What does this phrase mean to you and how do you cultivate excellence at your winery?
Excellence to me is acknowledging that winemaking begins with people. We have an excellent team of experienced individuals that are not afraid to ask questions and challenge decisions if they think it will influence the quality of our wines.
How does your winery help tell the Napa Valley story?
We are making wine from old vines in St. Helena. In particular, our Chardonnay was planted back in the late 1960s and early 1970s. Before there were clones, neighbors gathered together and shared cuttings to help each other. Massal selection is the correct term.
If you weren't a Napa Valley vintner, what would you be doing?
I would have a food truck – a deli on wheels – to serve the industrial winemaking areas in south Napa.
What's one thing people would be surprised to know about you?
I am learning how to play the ukulele.