Kari Auringer
Winemaker, BRYTER Estates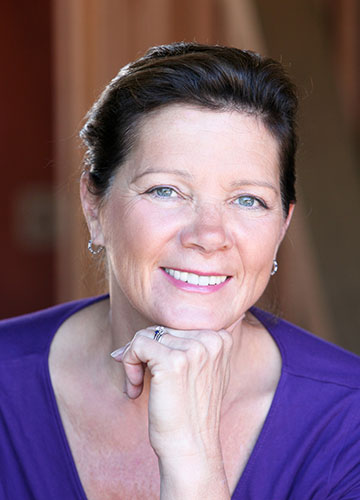 Get your hands dirty.
Kari enjoys shopping for wine much more than for shoes or clothes.
How many years have you been in the Napa Valley wine industry?
15 years.
How did you get started in the wine business?
My desire to launch a career as a winemaker started in the mid-1990s. I came to the Napa Valley with the ultimate goal of buying a vineyard and making wine. I figured, how hard could it be? I registered for wine classes, organized a wine tasting group, and embarked on a whole new adventure.
Which wine was your "a-ha!" wine – the one that made you love wine or inspired you to get into the industry?
When I was first learning about wine, my brother told me a story about ordering salmon, and on a recommendation by the restaurant, he had a glass of Pinot Noir. He was so enthusiastic describing the flavors of the food, first without the wine, then how much better it was with the wine. He was amazed at how they complemented each other. I had to rush right out and buy a bottle, and I bought some salmon, too.
Name a Napa Valley vintner who has influenced you and briefly explain why.
I had the great opportunity to work with Celia Welch. I also have the pleasure of knowing Mia Klein and Alison Doran. They are kind, generous people who make beautiful wines.
Our motto at the NVV is "cultivating excellence." What does this phrase mean to you and how do you cultivate excellence at your winery?
I relish the satisfaction I get from making a wine that fully expresses the variety, the vintage and the vineyard that it came from. I consider myself a success when a bottle of wine I made can be set down on the table, and the person who brought it knows, without a doubt, that it's going to be the best wine on the table. They are proud to share it, and that bottle of wine is empty long before the others.
What advice would you offer someone trying to get into the Napa Valley wine industry?
Start in production, so that in the future you can lead from experience. Get your hands dirty. Haul hoses, crawl inside dirty tanks at harvest, and know the back-breaking work of picking grapes. Whether you are interested in the production side of the business or sales/marketing, you can get your foot in the door, make important contacts, and gain valuable knowledge and experience.
What's one thing people would be surprised to know about you?
I hate shopping for clothes and shoes. I am only dangerous in a wine store. I have been known to purchase so much wine that I bring it into the house when my husband isn't looking. Later, when we're sharing a bottle, he'll ask, "When did you get this?" I'll say, "Oh, this old thing? I've had it forever."