Duane and Susan Hoff
Proprietors, Fantesca Estate & Winery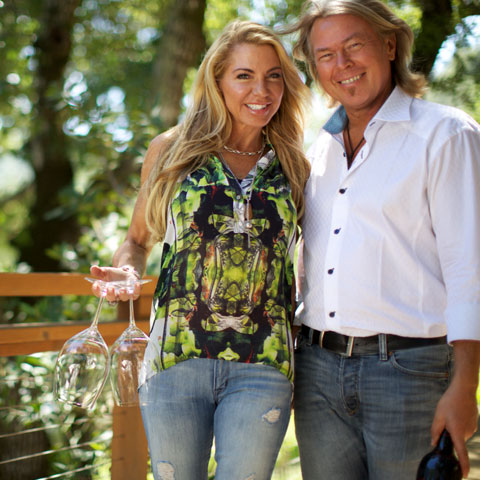 The decisions required to make great wine don't manifest themselves for many years.
A Mother's Day gift spurred a career in the wine industry for the Hoffs.
How many years have you been in the Napa Valley wine industry?
We started in 2004.
How did you get started in the wine business?
First, we fell in love with the Napa Valley. We were leading very hectic lives and found Napa Valley to be such an oasis of beautiful wines, beautiful views, wonderful restaurants and romantic hotels. It became our "happy place" to sneak off to, re-charge and re-connect. That eventually led to us seeking out a place to call our own.
Which wine was your "a-ha!" wine – the one that made you love wine or inspired you to get into the industry?
We were a young working couple with small kids. As a Mother's Day gift, I bought my wife a date night package for a cooking class at our favorite restaurant. It included a wine tasting lesson with their Sommelier. He was so gracious and his joy for the wines was contagious. He transformed wine for us from something intimidating to something wonderful to explore together. This gift led Susan and me to eventually start Fantesca.
Name a Napa Valley vintner who has influenced you and briefly explain why.
Our winemaker, Heidi Barrett. She has taught us about making beautiful wines, but equally as important is the example she and Bo have set for creating balance in their lives and having wonderful relationships with their children.
Our motto at the NVV is "cultivating excellence." What does this phrase mean to you and how do you cultivate excellence at your winery?
The decisions required to make great wine don't manifest themselves for many years, sometimes generations. You have to make each decision based on what is best for the long-term quality of the wine and the vineyard. Only over many years will the wisdom of this approach bear fruit.
If you could open a bottle of your wine and share it with any three people (living or not), who would they be?
It would have to be with our own two children and with Susan's mom, Sandy, who passed away before we bought the winery. She would have loved the art and craft of making wine and she would have cherished that it brought three generations together at the table.
What advice would you offer someone trying to get into the Napa Valley wine industry?
Believe in yourself. We need innovative minds to help us figure out how to share the passion and quality of Napa Valley with the world. Bring your experiences from other walks of life and help spread the word.
What's one thing people would be surprised to know about you?
That Susan and I met 30 years ago when her sorority and my fraternity were paired together for a charity event at University of Minnesota.