Bill Leigon
President, Jamieson Ranch Vineyards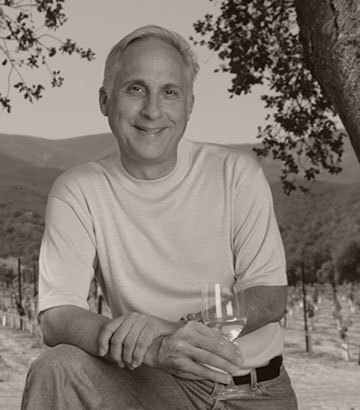 There are no small projects.
Bill, who was heavily influenced by his piano teacher as a child, once owned a wine shop in Manhattan's Upper East Side.
How many years have you been in the Napa Valley wine industry?
42 years.
How did you get started in the wine business?
I owned a retail wine shop in Manhattan, New York City at the corner of 69th and 2nd Avenue called Chevalier Wine Cellar.
Name a Napa Valley vintner who has influenced you and briefly explain why.
There are far too many mentors to name, but I believe that my colleagues and I all work in the shadow of Robert Mondavi. When I owned my wine shop, the Mondavi sales reps were the best in the business and the most professional.
What are the most rewarding aspects of your work?
All the wine I can drink, and the chance to work with so many great people every day.
Our motto at the NVV is "cultivating excellence." What does this phrase mean to you and how do you cultivate excellence at your winery?
I have always sought and demanded excellence throughout my career. I suppose I was most influenced by my piano teacher when I was 6 years old. She would say over and over again, "Billy, if anything is worth doing; it's worth doing well." Her voice still rings in my ears. There are no small projects.
What do you think makes Napa Valley unique compared to other wine regions?
Napa is one of the most unique wine regions in the world. The Paris Tasting in 1976 changed the wine world forever.
What are you doing at your winery to help preserve and enhance Napa Valley for the future?
We are very involved with community service; I instituted a miniature horse therapy outreach program. We have three minis at present. We will be redeveloping our vineyard over the next several years and I want to be certified Napa Green.
How does your winery help tell the Napa Valley story?
Our goal is to encapsulate all the makes Napa Valley great in the Jamieson Ranch Vineyards experience. It all starts with making great wine. JRV tells the story through food, wine, music, film, the arts, the outreach program, a spectacular setting with spectacular views and more.
What advice would you offer someone trying to get into the Napa Valley wine industry?
It's hard work. There are so many moving parts in the wine business, not to mention one is at the mercy of Mother Nature. I would say perseverance is the most important thing and staying true to one's values. The wine industry demands long-term thinking, not short-term thinking.
What's one thing people would be surprised to know about you?
I've been a professional actor (member of Actor's Equity) and singer since I was 18 years old.