home › wines of Napa Valley › Summer Wines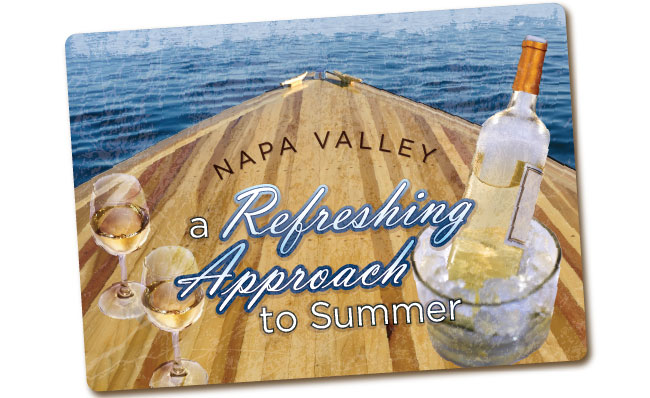 The Napa Valley Vintners invite you to experience a refreshing approach to the summer season. Whether sitting on your patio, enjoying a picnic or sailing away on an adventure, savor a glass of Napa Valley white wine or rosé with your warm weather pursuits!
Find a great summer wine!

While many think of Napa Valley as the leader in Cabernet Sauvignon, our appellation's diverse micro-climates and soils allow winemakers to produce a variety of quality-driven wines that include not only Chardonnay in the white varieties, but Sauvignon Blanc, Riesling, Pinot Gris, Pinot Grigio, Albariño and others - all perfect compliments to a summer day.
With more than 430 Napa Valley Vintners member wineries in the valley, you can view a list of those offering white, rosé and sparkling wines by searching here.

Search wines by varietal:

Wineries: (249)

Appellations:


Sail away with the Napa Valley
Did you know that the Napa Valley is the official wine region of the America's Cup? This summer sip some Napa Valley whites when you join us at the races in Newport, RI in June, and San Francisco, CA in August. To celebrate the Napa Valley is sponsoring a legendary wine getaway and offering lodging specials throughout the Valley. Learn more here.

Where to enjoy Napa Valley wine

If you find yourself in Newport, RI during the America's Cup races or visit Napa Valley or the Bay Area, enjoy a glass of Napa Valley wine at one of these restaurants.