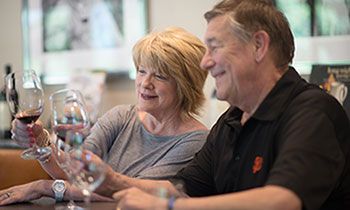 Find wine and food pairings, live music, winemaker dinners, blending seminars, wine education activities and more.
Raymond Vineyards: Rutherford Wine Experience Welcome Reception
Rutherford Dust Society
849 Zinfandel Ln.
Rutherford
Friday, May 01, 2015 , 7pm - 9pm
Benessere Vineyards: Celebrate our Spring Releases!
Benessere
1010 Big Tree Road
St. Helena
Saturday, May 02, 2015 , 11:00 a.m. - 3:00 p.m.
Castello di Amorosa: The Grand Barrel Party
Castello di Amorosa
4045 St Helena Hwy
Calistoga
Saturday, May 02, 2015 , 6:30pm - 10:00pm
Rutherford Appellation: Rutherford Wine Experience Main Event
Honig Vineyard & Winery
Rutherford
Saturday, May 02, 2015 , 10am - 5pm
Madrigal Family Winery: Annual Heritage Celebration
Madrigal Family Winery
3718 N. St Helena Hwy
Calistoga
Saturday, May 02, 2015 , 12-4pm