home › trade & media ›
Tools for the Trade
Napa Valley Rocks:
The Napa Valley Appellation Education Program
Napa Valley Rocks is an engaging program digging into what makes the Napa Valley America's premier winegrowing region.
We explore the unique geological formation of the valley, why it is the ideal climate to grow grapes, historical milestones, and the tradition of leadership that is continued today. These materials will further your understanding of Napa Valley, and its place within the world of wine.
Watch and Download the Videos
Watch and download the Napa Valley Rocks videos, a 7-part series, and learn what makes Napa Valley unique in the world of wine.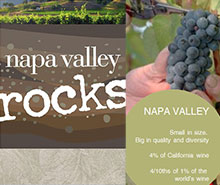 Download the Powerpoint
Powerpoint presentation in varying lengths outlining the unique attributes of the Napa Valley appellation. (Note: these are large files and we recommend you save them to your computer first before trying to open)
English:
Long Version | Short Version | Mini Version | Napa Valley Nested AVAs |
Fog Video

Foreign Language Versions:
French | Japanese | Mandarin | Korean | Taiwanese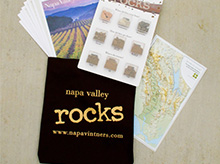 More tools to help you learn or teach about the Napa Valley: maps, books, posters and Napa Valley Rocks educational kits. Order your supply today!