Land Trust of Napa County
Natural Partners
Napa Sustainable Winegrowing Group
The Napa Valley Vintners supports the Napa Sustainable Winegrowing Group - a group dedicated to promoting sustainable farming practices including natural farming, Integrated Pest Management (IPM), pesticide reduction or elimination and, restoration of natural habitats on vineyard properties. The mission of the Napa Sustainable Winegrowing Group (NSWG) is to identify and promote winegrowing practices that are economically viable, socially responsible and environmentally sound. Specifically, the Napa Sustainable Winegrowing Group promotes viticultural land stewardship through educational outreach. Formed in October 1995 the group is comprised of members representing Napa winegrape growers, vintners, and local government and educational organizations. Additionally, the group is interested in identifying and acknowledging sustainable practices that are already being used effectively throughout the district. Visit the Napa Sustainable Winegrowing Group Web site at www.nswg.org.
The Napa Sustainable Winegrowing Group recently released"Vineyards in the Watershed: Sustainable Winegrowing in Napa County." The book, written by local author Juliane Poirier Locke was funded by the Napa Valley Vintners and other community and environmental groups such as the Audubon Society Napa-Solano Chapter; Friends of the Napa River; Sierra Club; and the Natural Resources Conservation Service, among others.
The concept for the book began as a technical treatise targeting vineyard managers. It evolved into a collection of feature stories that richly describe how local vintners and grape growers are developing and implementing environmentally friendly, sustainable farming practices. Vineyards in the Watershed is comprised of a series of case studies and personal interviews with local farmers. Topics addressed include soil erosion, wildlife and habitat protection, organic farming, water use and quality, and more. Cost for the book is $15.95 plus tax. For a list of retail locations or to purchase Vineyards in the Watershed, contact the Napa County Resource Conservation District at 707-252-4188 or via e-mail at: nswg@naparcd.org.
back to top
Watershed Task Force
In 2000, a group comprised of representatives from the County Planning Commission, environmental community, vintners, growers, developers, engineers and county residents was appointed by the Napa County Board of Supervisors to identify possible ways to improve the Napa River Watershed.
After working together the task force submitted an official set of recommendations to the Board of Supervisors. Among the recommendations were changes to the existing conservation regulations, including ways to improve conditions for the habitat and for restoring the health of the Napa River.
The Napa Valley Vintners, Napa County Farm Bureau, Napa County Grape Growers and the Napa County Sierra Club came together to support and endorse the recommendations of the Watershed Task Force which includes Biological Analysis and Resource Protection, Oak Tree Preservation, Erosion Control Plan Requirements and, Watershed Protection Incentives to name a few.
back to top
Land Trust of Napa County
1040 Main Street, Suite 203
Napa, CA 94559
(707) 252-3270
www.napalandtrust.org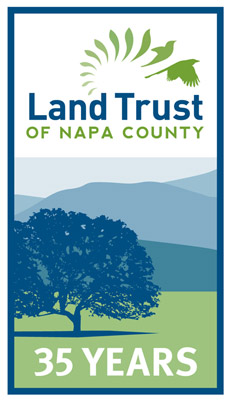 The Land Trust of Napa County is a local non-profit organization formed in 1976 charged with maintaining the rural character of Napa County by protecting the area's most important open space and agricultural lands for present and future generations. The Land Trust is a 501(c)(3) tax-exempt organization supported by more than 1,600 members. Since our founding, we have worked cooperatively with private landowners and public conservation agencies to permanently protected over 33,000 acres in Napa County. Over 20,000 acres of these lands are covered by conservation easements with private landowners. Napa's extraordinary beauty and its proximity to the Bay Area mean that housing pressures for our County will likely continue to increase. The vintners and growers on the following list have made a loud response to this threat. Through the use of conservation easements on their properties, they have permanently assured that their lands will forever remain in open space and agriculture.
Green Valley Ranch (1987) ˜ Green Valley Ranch Partners
980 acres of open space and grazing lands, including 24 acres of planted vineyard, east of the City of Napa.
Mead Ranch (1989) ˜ Giles Mead
1,318 acres off of Atlas Peak Road in Napa, including endangered plant habitat and 30 planted acres of vineyard (60 acres plantable).
Stag's Leap Wine Cellars - S.L.V. Vineyard (1990) ˜ Warren & Barbara Winiarski
41 acres (of 46 total plantable) of world-renowned cabernet vineyards on the Silverado Trail east of Yountville.
F. S. and June Foote (1990)
114 acres on the Silverado Trail east of Yountville which include 22 acres of planted vineyard and 92 acres of undisturbed natural habitat.
Kortum Canyon Vineyard (1991) ˜ John & Fran Pershing
187 acres of scenic agricultural and open space land west of Calistoga, including 40 acres of planted vineyard.
Eisele Family Estates (1991) ˜ Volker and Liesel Eisele
432 acres of agricultural, open space, watershed in Chiles Valley, including 60 acres of planted vineyard.
Green & Red Vineyard (1993) ˜ Jay and Pam Heminway
145 acres consisting of a vineyard, winery and forever wild open space in Chiles Valley.
Silverado Vineyards Mt. George Vineyard (1993) and Disney Vineyard (1994) ˜ Ron and Diane Miller
The Mt. George Vineyard is 112-acres (167 total plantable) on the slopes of Mt. George east of Napa; contiguous with The Land Trust's Foote Mt. George Botanical Preserve. The Disney Vineyard covers 214 acres east of Yountville; 103 acres planted and 111 acres of open space bordering the F.S. and June Foote conservation easement.
di Rosa Milliken Peak (1997) ˜ Rene di Rosa
164 acres (including 33 acres plantable) in the Carneros region southeast of Napa; includes all the lands of Milliken Peak (up to its summit) which face the City of Napa.
Long Meadow Ranch (1997 & 1999) ˜ Ted and Laddie Hall
242 acres of forested hillside and open space west of Rutherford. Includes 10 acres of organic vineyards and olive groves.
Rudd Estates (1997) ˜ Leslie Rudd
54 acres, including 50 planted acres of the home vineyard and the winery, near Oakville.
Atwater Conservation Easement (1997) ˜ Bruce and Martha Atwater
263 acres of open space, plantable vineyard, and forested watershed lands.
Cakebread Cellars (1998) ˜ Jack & Dolores Cakebread
10 planted vineyard acres and home in the western hills near Oakville.
Joseph Phelps Vineyards (1999) ˜ Joseph and Lois Phelps
480 acres, including the Joseph Phelps winery, a historic schoolhouse, lake, and 130 acres of planted vineyard.
V. Sattui Winery - Carsi Vineyard (1999) and Henry Ranch (2000 & 2001)
The Carsi Vineyard conservation easement restricts the development of a winery on the property, forever protecting 6.5 planted acres on Highway 29 south of Yountville. The historic Henry Ranch conservation easement forever preserves 528 acres of oak woodlands, grassland open space, planted vineyards (106 acres) and historic buildings along Carneros Creek and tributaries to Carneros Creek in the Carneros district. Three-quarters of this land will remain forever wild and undeveloped.
Nunyette Vineyard (2000) ˜ Dale and Sue Missimer
45 acres along Napa River at Yountville Crossroad; 22 acres planted.
Catacula Lake Winery/Bar 49 Ranch (2001) ˜ Ed Keith
1,025 acres straddling Pope Chiles Valley Road; 100 acres of planted vineyard plus a winery. Several hundred acres of undisturbed oak woodland adjacent to The Land Trust's Wantrup Wildlife Sanctuary and Bonnie Storm's future bequest property.
Heitz Wine Cellars (2002) ˜ Kathleen Heitz-Myers
A 42-acre parcel near Angwin that will serve as a buffer to The Land Trust's growing Linda Falls Preserve and at the same time provide for the establishment of a 10 acre vineyard.
Beckstoffer Vineyard X (2002) and Carneros Creek (2003) ˜ Andy Beckstoffer
The Vineyard X Conservation Easement Protects 46 acres of vineyard land along Highway 29 south of St. Helena from ever being developed. This past fall, Andy added another conservation easement on his 44-acre Carneros Creek vineyard on Dealy Road, further protecting the rural viewshed of the Carneros.
NON-VINEYARD PROPERTIES OWNED BY GRAPE GROWERS
di Rosa Art Preserve (1993) ˜ Rene di Rosa
52 acres of open space containing extensive modern art collection and natural habitat in the Carneros region southwest of Napa.
Niebaum Coppola Conservation Easement (1995) ˜ Francis Ford & Eleanor Coppola
382 acres of forested open space in the western hills near Oakville.
Pahlmeyer Winery (2000) ˜ Jason Pahlmeyer
57 acres of forever-wild open space lands adjacent to Milliken Reservoir and vineyard lands.
back to top
San Francisco Bay Estuary Institute
The Napa Valley Vintners supports The Napa Watershed Historical Ecology Project of the San Francisco Bay Estuary Institute. The project is a collaborative effort to learn the history of the local landscape. The project seeks to recover, organize, and interpret diverse information about the early local landscape and how it has changed. Since conditions have changed rapidly in the last two centuries, historical research is necessary to explain current conditions of local streams, forests, wetlands, and other habitats. The project can help the community define and understand the existing environmental challenges and suggest how they can be successfully resolved. The San Francisco Bay Estuary Institute is an independent, non-profit science organization. Visit the Web site at www.sfei.org.
back to top
Glassy-Winged Sharpshooter Action Team
The Glassy-Winged Sharpshooter Action Team (GWAT) includes the Napa County Agricultural Commissioner, representatives from the wine industry, the nursery industry, and environmental groups. The State of California enacted emergency regulations to stop the spread of the GWSS, however it was the consensus in Napa County that these regulations did not go far enough. As a result, Napa County enacted the toughest regulations in the State with a plan developed by the GWAT. This plan features a vigorous exclusion program that includes inspections of all incoming plant material and, insect traps set around the County. It also includes a process for certifying County nurseries as "Glassy-Winged Sharpshooter Free!" Compliance with these self-imposed stricter local regulations will help ensure the GWSS never enters Napa County. Find out more about the Glassy-Winged Sharpshooter at www.co.napa.ca.us.
back to top